Southeastern Lions Football Position Report: Tight Ends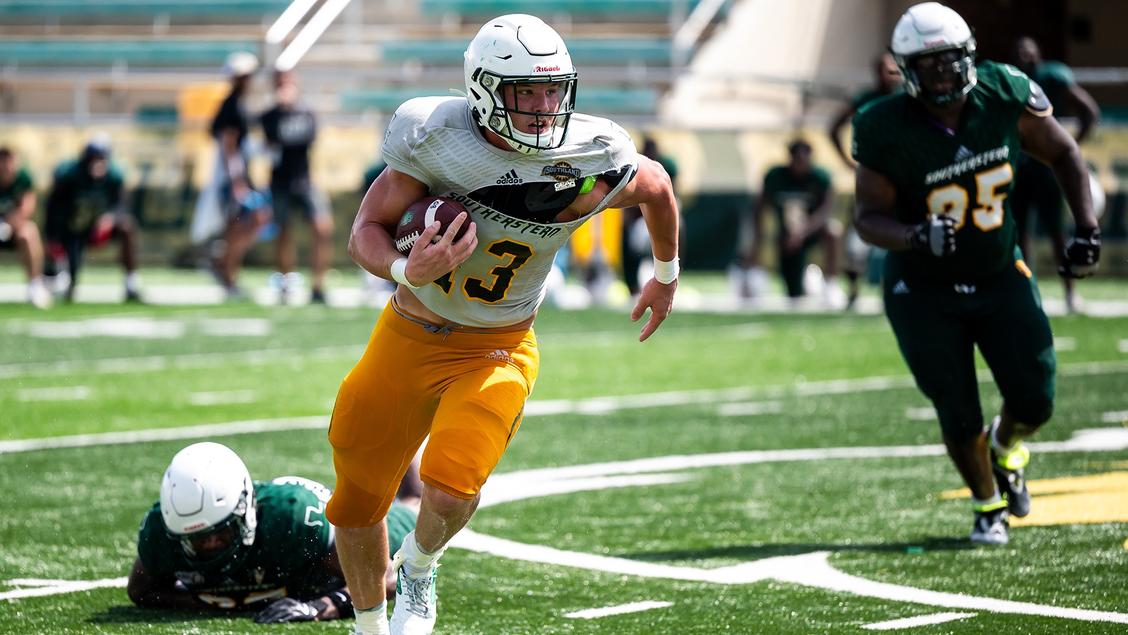 HAMMOND, La. – The reigning Southland Conference champion Southeastern Louisiana University football team has placed a tight end on the All-Southland Conference team in four of the five seasons under head coach Frank Scelfo. The Lions will have plenty of candidates to continue the trend in 2023.
Ivan Drobocky was named second team All-Southland Conference a season ago and is joined in the tight end room by veterans Jacob Logan, Connor Briggs, Bauer Sharp and Cade Collier. Scelfo and offensive coordinator Greg Stevens have consistently used the tight end as a weapon in the SLU attack and 2023 should be no different.
"That room has a lot of veteran guys that we can count on," Scelfo said. "We're going to look to the tight end group for leadership, but also for play making."
Tight end coach and special teams coordinator Ross Jenkins shares Scelfo's excitement regarding his group's prospects for the upcoming season.
"We have a group that have all been part of our program and know the expectations," Jenkins said. "We've had a great camp. Our guys embrace their expanded role our offense and the competition among the group has pushed everyone to be better."
While Briggs has thrived mostly as a blocker, Drobocky, Logan and Sharp have all flashed big play ability in the passing game. Logan was poised to step into the role vacated by 2021 senior Nolan Givan last fall, but suffered a season-ending injury in just the third game of the season. With Logan fully healed, Jenkins believes big things are ahead for the Deer Park, Texas native.
"Jacob was our main guy heading into the season last year," Jenkins commented. "His injury opened up opportunities for Connor, Ivan and Bauer. Jacob maintained a great attitude following his injury. He's fit in great with our program and is embracing a leadership role knowing this is his final collegiate season. He hasn't missed a beat since he's come back from being hurt and Jacob's return has elevated our entire room."
When Logan was out, Drobocky stepped up into a playmaking role in a breakout season. The Bowling Green, Kentucky native hauled in a team-high six touchdowns for the SLC champions in 2022.
"Ivan always has an awesome attitude and work ethic," Jenkins said. "His knowledge and feel for the game allow us to use him in a variety of ways. Ivan is a tremendous fit in our offense."
Sharp is entering his second season as a Lion tight end. The Dothan, Alabama native was initially signed as a quarterback, but his athleticism has afforded him the opportunity to transition to a pass catcher.
"Bauer has grown over the past year as much as anyone on our team," Jenkins stated. "He's extremely gifted and possesses a great combination of size, speed, strength and athleticism. We switched Bauer to tight end because we needed to find a way to get him on the field. With a year of playing the position behind him, Bauer's improved in every facet of his game. We expect him to be a big part of what we do this season both offensively and on special teams."
The Lions will return to the practice field Saturday at 9 a.m.
Southeastern opens the 2023 season with three straight nonconference road contests, beginning with a Sept. 2 trip to Mississippi State. The game versus the Bulldogs kicks off at 3 p.m. in Starkville, Mississippi and will be televised on SEC Network and can be heard on the Southeastern Sports Radio Network (Kajun 107.1 FM, The Highway 104.7 FM, The Boss 103.7 FM/WFPR 1400 AM).
Season and single-game tickets for the 2023 home football season, which includes visits from HCU (Sept. 23), Tarleton State (Sept. 30), Lamar (Oct. 14), McNeese (Nov. 4) and Nicholls (Nov. 18) are available online at https://vivenu.com/event/2023-football-2klkar.
Southeastern Football Preseason Practice Schedule
Aug. 19 – 9 a.m.
Aug. 21 – 3:45 p.m.
Aug. 22 – 3:45 p.m.
Aug. 23 – 3:45 p.m.
Aug. 24 – 3:45 p.m.
Aug. 25 – 9 a.m.
Aug. 26 – 9 a.m. (Season Ticket Pickup Party – 10 a.m.)
TICKETS
For ticket information, contact the Southeastern Athletics Ticket Office at (985) 549-5466 or visit www.LionSports.net. Southeastern will continue offering mobile ticketing as the primary source for securing tickets for the 2023-24 season. All tickets will be available via e-mail or text message in a PDF format for fans to download on their phone or print at home. Tickets can also be downloaded to Apple Wallet.
SOCIAL MEDIA
For more information on Southeastern Football, follow @LionUpFootball and @Coach_Scelfo on X, like /SLUathletics on Facebook and subscribe to the SLUathletics YouTube channel.
TOUCHDOWN CLUB/S CLUB
Fans interested in becoming active supporters of the football program are encouraged to join the Touchdown Club. Lion football alums are encouraged to join the exclusive S Club, which is restricted to Southeastern athletic letter winners.
All membership fees and donations to both the Touchdown Club and S Club (football) are available for the exclusive use of the Southeastern football program. Membership information is available by contacting the Lion Athletics Association at laa@southeastern.edu or (985) 549-5091 or visiting www.LionUp.com.
INSIDE SOUTHEASTERN FOOTBALL WITH FRANK SCELFO
The 2023 season of Inside Southeastern Football with Frank Scelfo will debut Aug. 28 at 7 p.m. at its new home – Walk-On's Sports Bistreaux (305 CM Fagan Dr) in Hammond. Hosted by Scelfo and Allen Waddell, the hour-long radio show will air Mondays throughout the football season on Kajun 107.1 FM, The Highway 104.7 FM and The Boss 103.7 FM/WFPR 1400 AM.
< PREV

Noah Cain, LSU feel Eight is Enough

NEXT >

Southland announces 2023 Volleyball Preseason All-Conference, prediction poll
Kemmler Chapple