Southeastern Lions Football Position Report: Offensive Line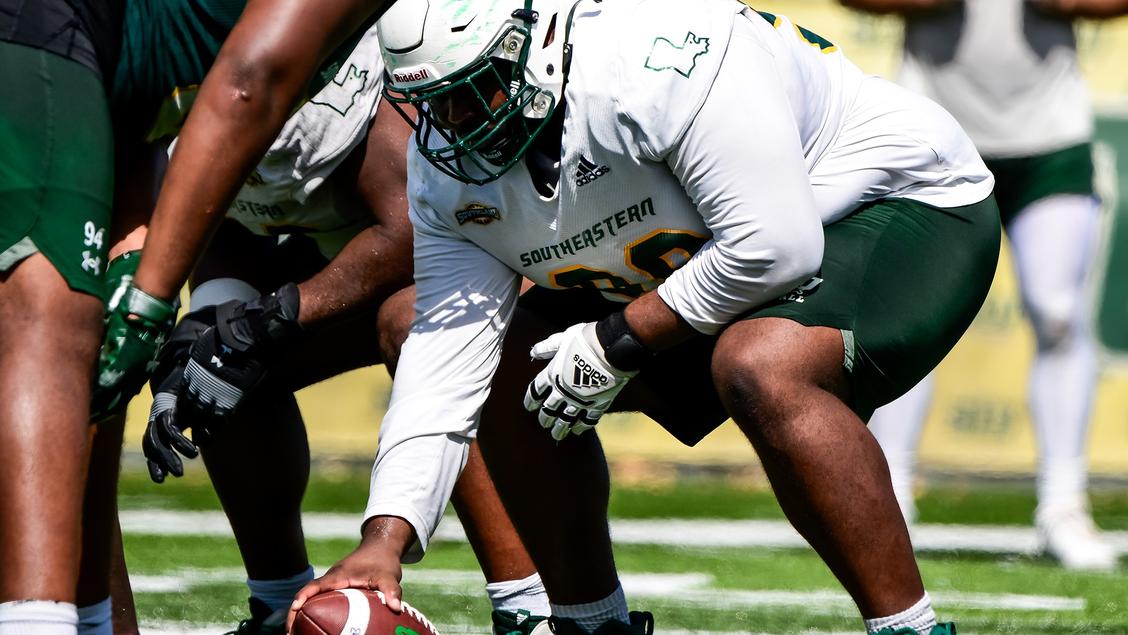 HAMMOND, La. – The reigning Southland Conference champion Southeastern Louisiana University football team heads into 2023 with a veteran offensive line corps that has a combined 83 starts in a Lion uniform.
Through the first several weeks of fall practice, SLU head coach Frank Scelfo has been pleased with the group's progress, but still is looking for more from the team's most experienced position room.
"We have a veteran offensive line group that knows what to do, so assignment-wise they've been extremely sharp," Scelfo commented. "As we get closer to the season, I'd like to see them play with more physicality that we know they're capable of. We're counting on those guys to be leaders for our team."
The 2022 season saw Southeastern lose three opening day starters on the offensive line by week four of the season. Lion offensive line coach and run game coordinator A.J. Hopp had to throw several inexperienced players into the fire and they responded.
The offensive line helped clear the way for a Lion offense that averaged 35.3 points and 441.0 yards per outing. The Southeastern attack helped SLU to its third FCS playoff appearance in the past four years and the third Southland title in program history.
The injury misfortunes of 2022 result in Southeastern having increased depth up front heading into 2023. The Lions will enter the season with six players with starting experience, as several players had to step into more prominent roles with season-ending injuries to offensive tackles Jalen Bell and Brennan Lanclos – both who are back this season.
"One thing that last year taught us is that you can only control what you can control," Hopp commented. "We developed a next-man up mentality and guys who've been in our system for a long time were able to step up when they were called upon because they continued to put in the work and trust the process. Our depth has created a lot of competition throughout camp. Our guys are just feeding off each other's energy and making each other better every day."
Leading the way for the Lions is 2022 All-American and Southland Conference Offensive Lineman of the Year John Allen. After starting at guard throughout his Southeastern career, the Jackson, Mississippi native is expected to move back to his junior college and high school position of center for his final collegiate campaign.
"John has been our emergency center since he's been here, so he's very comfortable at that position," Hopp said. "Two weeks into camp he's really hit as groove and looks like the player we saw on tape when we recruited him at center. He's a natural leader and communicates very well. Behind him, William Granville has been solid and is having an awesome camp as well."
Bell, a two-time All-SLC left tackle whose 2022 season ended last season in the season opener at UL Lafayette, and Lanclos, who the Lions lost two weeks later versus Central Connecticut State, are both back for the fall. Jhy Orgeron, a second team All-Southland selection after sliding into Bell's spot, also returns on the edge for SLU.
"Jalen and Brennan are doing great," Hopp commented. "Both of them are playing like they never left and are even better now. We have three All-Southland tackles in our room with Jhy back. Those three guys can all play on either side and have pushed each other all camp. It makes my job easier when I have those three options."
At the guard spot, Brockhim Wicks is a preseason All-SLC selection after having to move to tackle last fall in place of Lanclos. Wicks and Javin Turner, who started 10 games at right guard in 2022, are expected to team with Allen to provide the Lions with a stout interior.
"Javin started a lot of games for us last year and has had a nice camp," Hopp said. "We had to move Brock to tackle last season due to injuries, but we've moved him back to his natural position and he's doing great."
Hopp believes his group is ready to embrace the leadership expectations put on them by Scelfo.
"We have guys in our room that have been with our program a long time and have played a lot of football with us," Hopp said. "They understand out culture and what we're trying to accomplish. We don't have one or two leaders up front. They all know what to do and do a great job holding each other accountable."
The Lions will return to the practice field Thursday at 3:45 p.m.
Southeastern opens the 2023 season with three straight nonconference road contests, beginning with a Sept. 2 trip to Mississippi State. The game versus the Bulldogs kicks off at 3 p.m. in Starkville, Mississippi and will be televised on SEC Network and can be heard on the Southeastern Sports Radio Network (Kajun 107.1 FM, The Highway 104.7 FM, The Boss 103.7 FM/WFPR 1400 AM).
Season and single-game tickets for the 2023 home football season, which includes visits from HCU (Sept. 23), Tarleton State (Sept. 30), Lamar (Oct. 14), McNeese (Nov. 4) and Nicholls (Nov. 18) are available online at https://vivenu.com/event/2023-football-2klkar.
Southeastern Football Preseason Practice Schedule
Aug. 17 – 3:45 p.m.
Aug. 18 – 9 a.m.
Aug. 19 – 9 a.m.
Aug. 21 – 3:45 p.m.
Aug. 22 – 3:45 p.m.
Aug. 23 – 3:45 p.m.
Aug. 24 – 3:45 p.m.
Aug. 25 – 9 a.m.
Aug. 26 – 9 a.m. (Season Ticket Pickup Party – 10 a.m.)
TICKETS
For ticket information, contact the Southeastern Athletics Ticket Office at (985) 549-5466 or visit www.LionSports.net. Southeastern will continue offering mobile ticketing as the primary source for securing tickets for the 2023-24 season. All tickets will be available via e-mail or text message in a PDF format for fans to download on their phone or print at home. Tickets can also be downloaded to Apple Wallet.
SOCIAL MEDIA
For more information on Southeastern Football, follow @LionUpFootball and @Coach_Scelfo on Twitter, like /SLUathletics on Facebook and subscribe to the SLUathletics YouTube channel.
TOUCHDOWN CLUB/S CLUB
Fans interested in becoming active supporters of the football program are encouraged to join the Touchdown Club. Lion football alums are encouraged to join the exclusive S Club, which is restricted to Southeastern athletic letter winners.
All membership fees and donations to both the Touchdown Club and S Club (football) are available for the exclusive use of the Southeastern football program. Membership information is available by contacting the Lion Athletics Association at laa@southeastern.edu or (985) 549-5091 or visiting www.LionUp.com.
INSIDE SOUTHEASTERN FOOTBALL WITH FRANK SCELFO
The 2023 season of Inside Southeastern Football with Frank Scelfo will debut Aug. 28 at 7 p.m. at its new home – Walk-On's Sports Bistreaux (305 CM Fagan Dr) in Hammond. Hosted by Scelfo and Allen Waddell, the hour-long radio show will air Mondays throughout the football season on Kajun 107.1 FM, The Highway 104.7 FM and The Boss 103.7 FM/WFPR 1400 AM.
< PREV

LSU announces 2023 non-conference portion of men's basketball schedule

NEXT >

Former Archbishop Shaw, Tulane pitcher J.P. France making case for AL Rookie of the Year
Kemmler Chapple