Rummel's Giancarlo Arencibia earns New Orleans Athlete of the Month Honor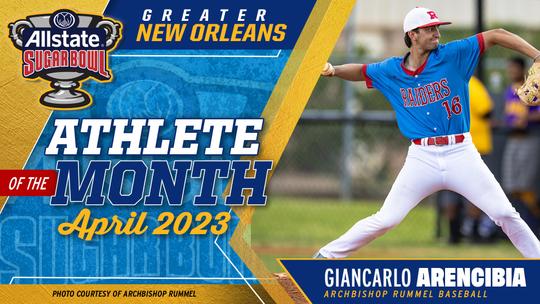 Baseball Star Led Raiders on the Mound and at the Plate
NEW ORLEANS – Archbishop Rummel baseball star Giancarlo Arencibia has been selected as the Greater New Orleans Amateur Athlete of the Month for April. Monthly award-winners are selected by the Greater New Orleans Sports Awards Committee, sponsored by the Allstate Sugar Bowl.
Arencibia, a star pitcher/infielder, came up huge in leading Archbishop Rummel to the LHSAA Select Division I playoffs and a pair of playoff series victories. For the month, the junior was 3-0 with a 0.71 ERA on the mound. In 25.2 innings pitched, Arencibia allowed two earned runs on just eight hits while striking out 42 batters. Arencibia pitched a no-hitter in a 5-0 playoff win over Ben Franklin on April 20 and backed it up with a perfect game in a 10-0 regional round playoff win at No. 4 seed Captain Shreve. At the plate, Arencibia hit. 400 (8-for-20) with five singles, two doubles, a triple, six runs scored and seven RBI.
Arencibia and the 13th-seeded Raiders, coached by Frank Cazeaux, continued their playoff success this past weekend as they swept No. 5 Northwood-Shreveport in the Division I quarterfinals. Rummel (25-14) advances to play No. 1 Catholic-Baton Rouge in a state semifinal set for Thursday at 2 p.m.
Arencibia earned the honor over six other area athletes who turned in exceptional April performances.
• Cade Beloso hit .250 (14-of-56) with four home runs for the No. 1 ranked LSU baseball team in April. For the season, the 6-0, 230-pound graduate student from John Curtis is hitting .297 with eight home runs. He has a .584 slugging percentage with 31 RBI and 24 runs scored.
• Edna Karr sprinter Rahj " Roadrunner" Dennis was a key player in the district 9-5A track and field competition at Tad Gormley on April 20th. The 6-0, 160-pound runner won the 200-meter dash with a time of 21.09 seconds to break the record that had been held since 1993 by St. Augustine star Joseph Sincere. Dennis also placed second in the 100-meter dash with a time of 10.47 seconds while helping the Cougars with the 4×200 and 4×400 relays. Dennis has twice been selected all-state as a sprinter. His personal-bests are 10.35 seconds in the 100 and 6.86 seconds in the 60. A wide receiver for the Cougar football team, Dennis has football scholarship offers from Mississippi State, Miami, Duke, Grambling and Memphis as well as a track scholarship offer from USC.
• Natalie Devraj, a junior from Mandeville High School, won the LHSAA's Division I girls singles title for the third consecutive year April 25. In a rematch of last year's state final, Devraj posted a three-set win over Ella Mancuso of St. Joseph's Academy. In her other four state tournament matches, she lost a combined three games in eight sets. This was her fourth state finals appearance, having also reached the title match in 2019 in Division IV at Episcopal of Baton Rouge. Devraj, who also won the Division I Region IV title the previous week, single-handedly produced a fourth-place finish for Mandeville in the team standings.
• Senior catcher Josh Eames was a huge factor for the John Curtis baseball team's success in the LHSAA Division I Select Baseball Playoffs. The Delgado signee batted .433 with four doubles, one triple, three home runs and 19 RBI.
• Michael O'Brien, another star for the John Curtis baseball team, hit .448 with a pair of doubles, two home runs and seven RBI. On the mound, the Mississippi State signee had a 3-1 record, with one save, in 14 innings pitched and 18 strikeouts earning 0.50 ERA.
• Kynnedy Turner starred for the Xavier University of Louisiana women's track and field team at the Red River Athletic Conference Track and Field Championships at San Antonio, Texas, April 28-29. The sophomore from Conyers, Ga., competed in five events with five victories and four A-qualifying marks for nationals. Turner won the RRAC meet award for most points by a woman in track events while leading XULA to its sixth consecutive league championship, this time with a league-record 309 points. She is the first athlete, female or male, since 2018 to win the 100, 200 and 400 in the same Red River meet.
The Greater New Orleans Sports Awards Committee has been selecting an Amateur Athlete of the Month each month since 1957. The athlete must be a native of the greater New Orleans area or must compete for a team in the metropolitan region in order to be eligible.
The Allstate Sugar Bowl has established itself as one of the premier college football bowl games, having hosted 28 national champions, 102 Hall of Fame players, 52 Hall of Fame coaches and 21 Heisman Trophy winners in its 89-year history. The 90th Allstate Sugar Bowl Football Classic, which will double as a College Football Playoff Semifinal, is scheduled to be played on January 1, 2024. In addition to football, the Sugar Bowl Committee annually invests over $1 million into the community through the hosting and sponsorship of sporting events, awards, scholarships and clinics. Through these efforts, the organization supports and honors thousands of student-athletes each year, while injecting nearly $2.4 billion into the local economy in the last decade. For more information, visit allstatesugarbowl.org.
< PREV

Scheuermann named Region 23 Coach of Year as Delgado dominates squad

NEXT >

Report: Hunter Dean chooses to join LSU men's basketball as graduate transfer
John Sudsbury