UNO to host UTRGV in first round of CBI on Wednesday
PRINCETON, N.J. – The University of New Orleans (15-16) will host the University of Texas Rio Grande Valley (15-17) the first round of the College Basketball Invitational Wednesday, March 14 at 7 p.m. at Lakefront Arena.
The winner advances to the quarterfinals Monday, March 19, followed by the semifinals Wednesday, March 21. The championship will be the best-of-three played on March 26, March 28 and March 30 with the series televised on ESPNU.
The Privateers defeated Texas A&M University-Corpus Christi in the first round of the 2018 Southland Conference Tournament Wednesday.
"We are extremely excited to be a part of the CBI," said head coach Mark Slessinger. "This is an incredible opportunity for our campus and student-athletes to experience postseason basketball on campus in beautiful Lakefront Arena. To be one of the programs invited to participate in this tournament and have back-to-back postseason appearances is a solid step forward for our program. As a coach, the goal is to always give your team the opportunity to play postseason basketball and this competitive 16-team field gives us just that."
"We are thankful to the CBI for the invitation and to President Dr. John Nicklow and athletic director Derek Morel for all of their support."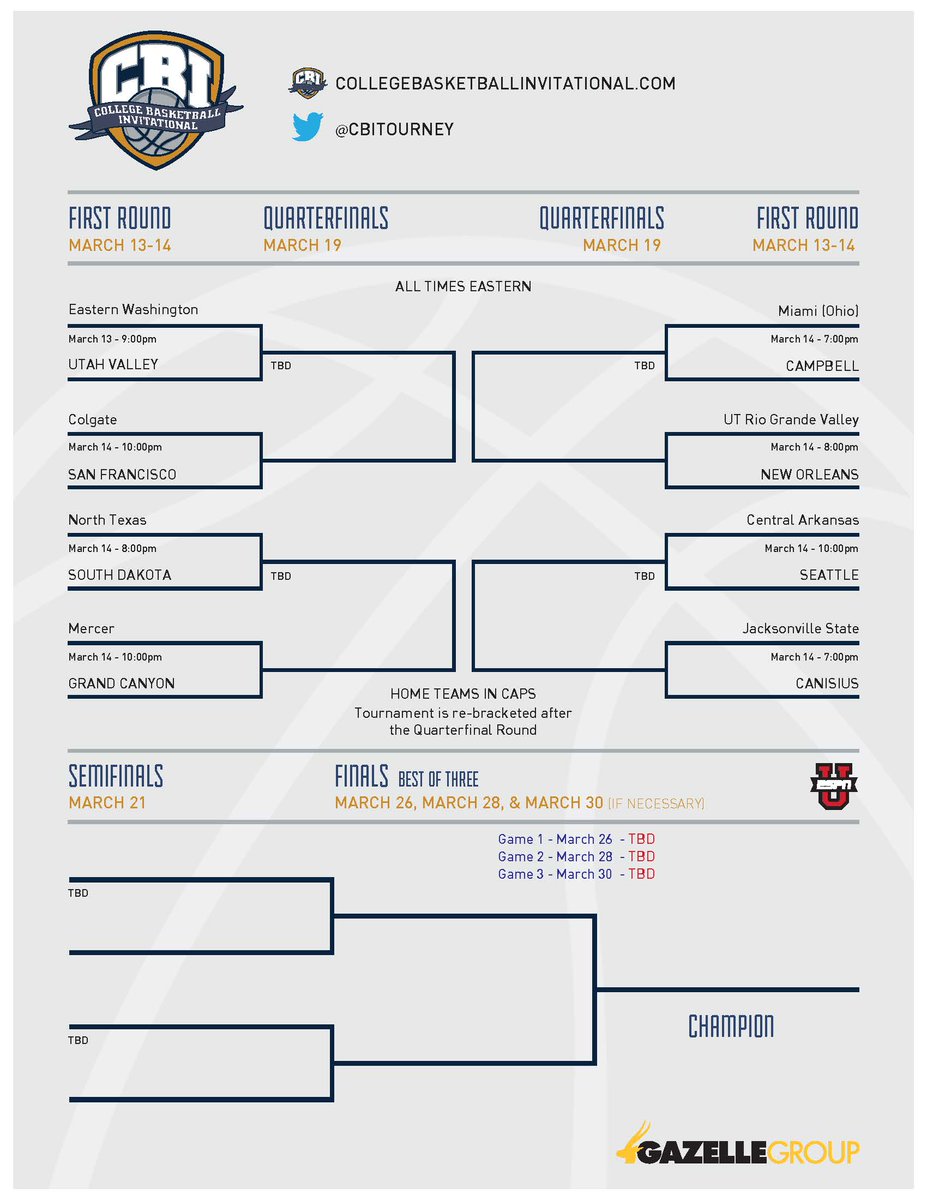 TICKET INFORMATION
Tickets are on sale now at UNOPrivateers.com/tickets.
ABOUT THE CBI
The CBI is a single-elimination tournament up until the best-of-three Finals, with all games played at campus sites. After the First Round games, the Quarterfinal Round will take place on Monday, March 19, followed by the Semifinal Round on Wednesday, March 21. Prior to the semifinals, the remaining teams will be re-bracketed. The Finals series is a best-of-three in which one team will host two of the three games. Those games will be played on March 26, March 28, and March 30.
ESPN is again the official television home of the CBI. ESPNU will televise each game of the best-of-three Championship Series. Roy Philpott and Jason Capel will serve as the broadcast team.
The College Basketball Invitational is produced by the Gazelle Group of Princeton, N.J. The Gazelle Group is a sports marketing firm, specializing in event production and management, client representation, and sponsorship consulting. Gazelle produces numerous nationally-recognized events, such as the 2K Classic benefiting Wounded Warrior Project, Legends Classic, and the Gotham Classic. For more information on the Gazelle Group, please visit here.
SOCIAL MEDIA
Fans are encouraged to follow @PrivateersMBB on Twitter, @PrivateersMBB on Instagram, like /PrivateersMBB on Facebook and subscribe to the PrivateerAthletics YouTube channel.
Game Notes: http://unoprivateers.com/sports/2017/11/6/mens-basketball-game-notes.aspx
Live Stats: http://www.sidearmstats.com/uno/mbball/
Listen: http://unoprivateers.com/watch/
Tickets: https://tkt.xosn.com//tickets/EventsCentral.dbml?DB_OEM_ID=34300nded solely for the use of the Addressee(s) and may contain information that is PRIVILEGED, CONFIDENTIAL, and/or EXEMPT FROM DISCLOSURE under applicable law. If you are not the intended recipient, you are hereby notified that any disclosure, copying, distribution, or use of the information
< PREV

LSU to host UL Lafayette in NIT first round

NEXT >

Pelicans fall to Jazz, drop second straight at home
Kelvin Queliz