Southeastern continues split squad work in second fall practice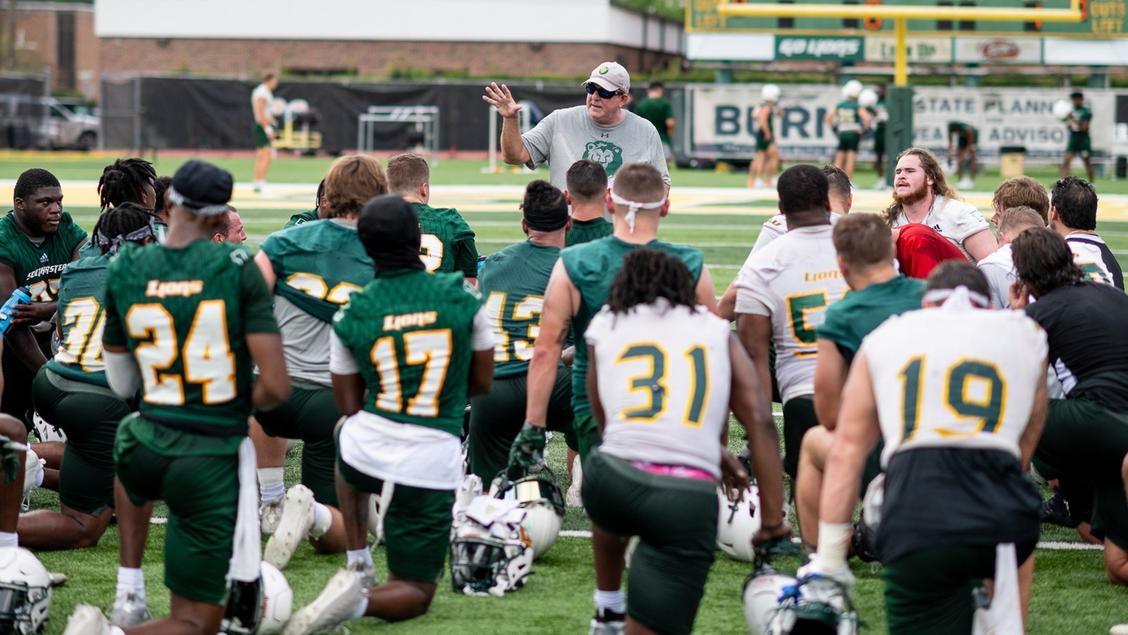 HAMMOND, La. – The reigning Southland Conference champion Southeastern Louisiana University football team continued its opening week of fall practice with a pair of split-squad workouts.
Both sessions during the second day of split-squad practices were much more to SLU head coach Frank Scelfo's liking.
"We had a good performance from our second group yesterday, but the defense dominated the first session," Scelfo commented. "Today, we were precise on both sides of the ball during both sessions. We played with a lot of positive energy and saw good competition throughout the day."
After practicing the first two days without pads, Southeastern will be in shells for the first time for day three.
"We're seeing a lot of positive things that we can build on, but there's some things we'll continue to correct," Scelfo said. "We don't put any pads on during the first two days, so tomorrow will be a good day to evaluate."
The Lions will return to the practice field for the third of four split-squad practices Friday at 9 a.m. with the second group taking the field at 10:30 a.m.
Southeastern opens the 2023 season with three straight nonconference road contests, beginning with a Sept. 2 trip to Mississippi State. The game versus the Bulldogs kicks off at 3 p.m. in Starkville, Mississippi and will be televised on SEC Network and can be heard on the Southeastern Sports Radio Network (Kajun 107.1 FM, The Highway 104.7 FM, The Boss 103.7 FM/WFPR 1400 AM).
Southeastern Football Preseason Practice Schedule
Aug. 4 – 9 a.m./10:30 a.m. (Split-squad)
Aug. 5 – 9 a.m./10:30 a.m. (Split-squad)
Aug. 7 – 9 a.m. (First full team practice)
Aug. 8 – 9 a.m.
Aug. 9 – 9 a.m.
Aug. 10 – 9 a.m.
Aug. 11 – 9 a.m.
Aug. 12 – 9 a.m.
Aug. 14 – 9 a.m.
Aug. 15 – 9 a.m.
Aug. 16 – 3:45 p.m. (First day of classes)
Aug. 17 – 3:45 p.m.
Aug. 18 – 9 a.m.
Aug. 19 – 9 a.m.
Aug. 21 – 3:45 p.m.
Aug. 22 – 3:45 p.m.
Aug. 23 – 3:45 p.m.
Aug. 24 – 3:45 p.m.
Aug. 25 – 9 a.m.
Aug. 26 – 9 a.m. (Season Ticket Pickup Party – 10 a.m.)
TICKETS
For ticket information, contact the Southeastern Athletics Ticket Office at (985) 549-5466 or visit www.LionSports.net. Southeastern will continue offering mobile ticketing as the primary source for securing tickets for the 2023-24 season. All tickets will be available via e-mail or text message in a PDF format for fans to download on their phone or print at home. Tickets can also be downloaded to Apple Wallet.
SOCIAL MEDIA
For more information on Southeastern Football, follow @LionUpFootball and @Coach_Scelfo on Twitter, like /SLUathletics on Facebook and subscribe to the SLUathletics YouTube channel.
< PREV

New Orleans Boosters advance to AAABA semifinals with Thursday's 1-0 win over New Brunswick

NEXT >

Video: Brian Kelly post-practice press conference
Kemmler Chapple