Replay: Warren Easton throttles Leesville, 54-14, to reach Class 4A title game
December 1, 2018
By Matt Sims
Category: Preps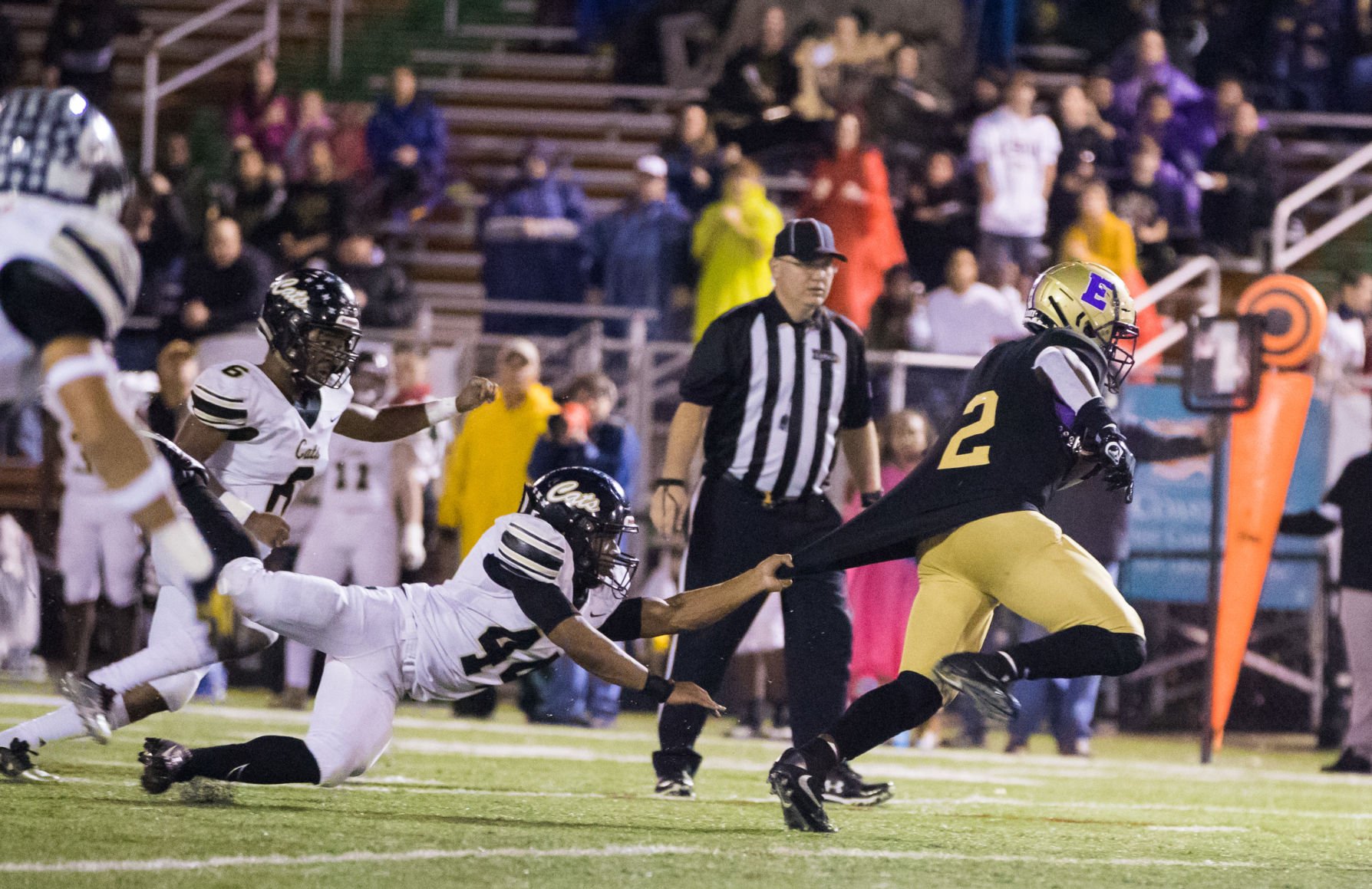 NEW ORLEANS – After seeing their season come to an end in the semifinals for three consecutive years, Warren Easton emphatically brought that streak to an end Friday night.
The Eagles raced past the previously undefeated Leesville Wampus Cats, 54-14, at Pan American Stadium to punch their ticket to the Class 4A state championship game in the Mercedes-Benz Superdome next Saturday.
"It felt real good," said Warren Easton Head Coach Jerry Phillips about the semifinal victory. "They punched us in the mouth early, but we responded really well. We started playing Easton football and we never stopped. Once we started rolling we never stopped. Hopefully that that continues into next week."
Dealing with a steady rain most of the night, the Eagles utilized their speed in the rushing attack to run away from the Wampus Cats. Warren Easton racked up 417 yards on the ground, accounting for seven of the Eagles' eight touchdowns. The speed advantage for Warren Easton (11-2) created big plays all night long, with touchdown runs of 62, 65, 69 and 37 yards.
"Like I've been told, you either match the speed or you watch the speed," said Leesville Head Coach Robert Causey. "They were faster than us and we had to play perfect. They're better than us." This is a great football team, well coached and you got athletes everywhere."
Ashaad "Shaddie" Clayton led the way for Warren Easton, amassing 265 yards on just 14 carries and scoring three touchdowns, all on rushes over 60 yards.
"We needed that from Shaddie," said Phillips. "It was wet out there and it was raining…we just gave him the ball. When he gets in space, there are very few people who can catch him."
The superstar performance from Clayton allowed senior quarterback Lance Legendre to keep the superman cape dry in the closet on a very wet night. Legendre passed for a modest 65 yards and a touchdown, while adding 67 more yards on the ground with a touchdown as well.
The contest started off as well as it possibly could have for Leesville. Receiving the opening kickoff, the Wampus Cats marched down the field and put the first points on the board with a two-yard touchdown run by quarterback Jacob Mount.
The Wampus Cats then came up with the big stop on Warren Easton's ensuing possession, stuffing the Eagles on fourth down. On Easton;s second possession, Clayton broke off a 62-yard touchdown run to jump start a run of 40 unanswered points for the Eagles.
"We just a little community from Leesville in Vernon Parish and we came down here and gave it our best shot," said Causey. "When you play good teams, they expose your weaknesses and it gave us an opportunity to look this week and say you know what, there's some things we gotta do to compete and win on this stage."
While the Eagles were rolling towards victory, they did not come out of the victory unscathed. University of Florida commit Chester Kimbrough limped off the field late in the fourth quarter with an apparent ankle injury following an incomplete pass.
"He tweaked it but he should be okay," Phillips said. "He's only got one game left in his high school career. He'd better be okay."
The highly-anticipated rematch is now set as the No. 2 Eagles take on district rival Karr for the Class 4A championship. The top-seeded Cougars downed Neville, 25-13, to earn the right to play for their third state championship next Saturday at 3:30 p.m. in the Mercedes-Benz Superdome. The contest will be aired live on WGSO 990 AM and at WGSO.com. Karr edged Warren Easton, 21-20, on Nov. 1.
"We kind of expected it would be us and Karr once again," Phillips said. "Hopefully we take care of business. It doesn't matter who we play but the kids wanted another shot at them. It's here now. It's on."
The Eagles are happy to be back in the title game for the first time since 2014 but not satisfied.
"We ain't done yet," Clayton said. "We have more work to do. The losses to Karr and Curtis made us tougher. The goal is to win the state championship."
Final
WE 6 20 14 14 — 54
LEE 7 0 0 7 — 14
Scoring
1st Qtr.
LEE—Jacob Mount, 2 yard run (Ben Ward kick) 7-0 LEE @ 9:19-1st
WE—Ashaad Clayton, 62-yard run (kick failed) 7-6 LEE @ 1:01-1st
2nd Qtr.
WE—Lance Legendre, 4-yard run (pass failed) 12-7 WE @ 10:35-2nd
WE—Ashaad Clayton, 65-yard run (Jahmal Sam run) 20-7 WE @ 6:16-2nd
WE—Kentrell Boyd, 25-yard pass from Lance Legendre (run failed) 26-7 WE @4:04-2nd
3rd Qtr.
WE—Ashaad Clayton, 69-yard run (Jahmal Sam run) 34-7 WE @ 11:49-3rd
WE—Jahmal Sam, 24-yard run (run fails) 40-7 WE @ 6:27-3rd
4th Qtr.
LEE—Noah Allain, 2-yard run (Ben Ward kick) 40-14 WE @ 9:54-4th
WE—Jahmal Sam, 37-yard run (run fails) 46-14 at 7:22-4th
WE—Dahamari London, 17-yard run (Stephen Banford pass to Fred Shields) 54-14 @ 4:36-4th
Final Statistics
Rushing Yards
WE 417
LEE 188
Passing Yards
WE 65
LEE 178
Total Yards
WE 482
LEE 366
Penalties:
WE 5 for 51 yards
LEE 7 for 60 yards
Sacks:
WE 3
LEE 0
Turnovers:
WE 0
LEE 1
Individual Statistics
WE Rushing
Ashaad Clayton 14 carries for 265 yards and 3 TD's
Lance Legendre 8 carries for 67 yards and 1 TD
Damahari London 3 carries for 26 yards and 1 TD
Stephen Banford 4 carries for 17 yards
Dekunta Mason 1 carry for -1 yard
WE Passing
Lance Legendre 6-of-11 for 65 yards and 1 TD
WE Receiving
Casey Cain 2 catches for 25 yards
Kentrell Boyd 1 catch for 25 yards and 1 TD
Kiaeem Green 1 catch for 12 yards
Jewell Holmes 2 catches for 3 yards
LEE Rushing
D'Ante Gallashaw 20 carries for 108 yards
Caleb Gallashaw 16 carries for 69 yards
Duwon Tolbert 1 carry for 20 yards
Darius Sawyer 5 carries for 11 yards
Jacob Mount 5 carries for -20 yards
LEE Passing
Jacob Mount 8-of-26 for 178 yards
LEE Receiving
Darius Sawyer 4 catches for 90 yards
Duwon Tolbert 3 catches for 86 yards
Caleb Gallashaw 1 catch for 2 yards
< PREV

LSUA avenges loss, rolls No. 11 Dillard

NEXT >

Pelicans rally falls short at Miami despite 41 from Davis
Matt Sims
CCS/106.1 FM Reporter