Recruiting: Memphis area TE Conner Richardson commits to Tulane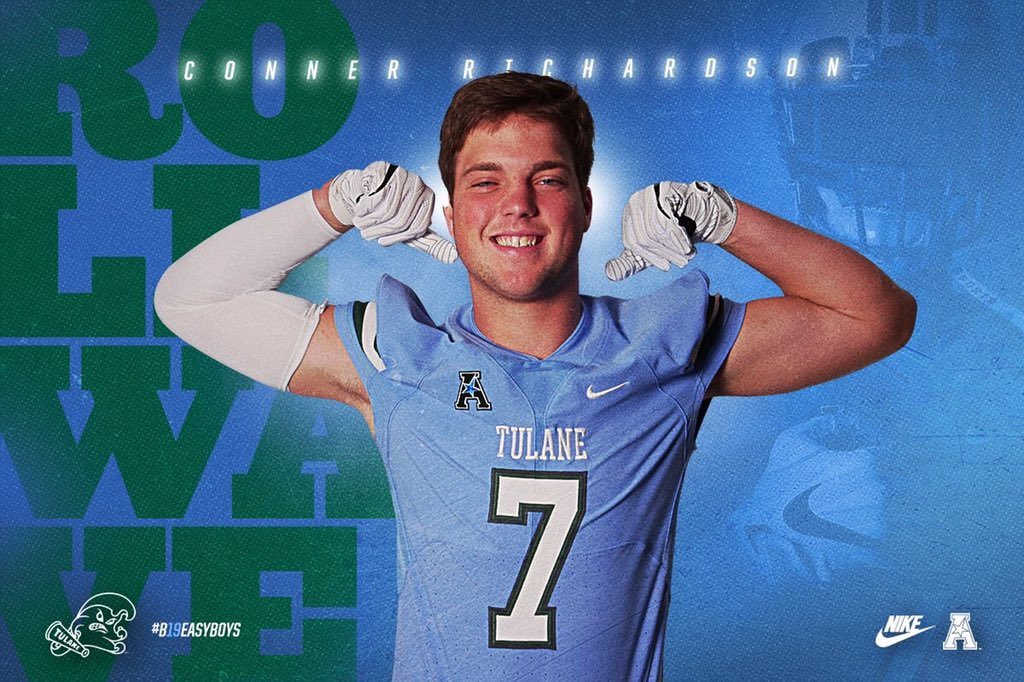 Tulane gained its second 2019 football commitment in as many days with the pledge of tight end Conner Richardson.
#ROLLWAVE @GreenWaveFB @CoachWEFritz @Coach_Nagle @CoachJackCurtis @CoachSmithGHS @CoachRebstock @Marcusdent93 @7WideOuts @Gtownfootball1 pic.twitter.com/sHSDmclxYG

— Conner richardson (@CR_Richardson22) June 11, 2018
This past weekend, Birmingham offensive lineman Brevyn Jones committed to Tulane. The Green Wave now have three pledges for the 2019 class, all coming within the past three weeks.
Richardson, a 6-foot-5, 235 pound Germantown, Tennessee product displays reliable hands and is athletic enough to make the difficult catch. His only other previous D1 football offer came from UT Martin.
6'6 230lbs 2019 TE Conner Richardson Germantown TN. With a acrobatic catch! At the Louisiana Bootleggers 7v7 Tournament. @CR_Richardson22 @CoachWindham @Rebels247 @RivalsJohnson @ChadSimmons_ @LABootleggers pic.twitter.com/STjxGFzI9R

— Marcus Dent Sr (@Marcusdent93) April 23, 2018
Richardson is also a first team all-region basketball standout for Germantown High outside of Memphis.
Chicago Bound…
In the 2017 recruiting class, 5 star quarterback Hunter Johnson had his choice to locations for college. He originally committed to Tennessee, but later reversed field to ink with Clemson. The game MVP of the 2017 U.S. Army All American Bowl is now on the move.
Johnson (6-2, 210) became disenchanted at Clemson this spring when he found himself battling for reps with incumbent starter Kelly Bryant and another 5 star talent, 218 signee Trevor Lawrence.
Duke, Purdue, Indiana and Northwestern were his finalists but the Big Ten Wildcats won out for Johnson's transfer. He visited Northwestern June 4 and then stopped by West Lafayette and Bloomington.
His older brother, Cole, is a preferred walk-on at Northwestern. the younger Johnson will have to sit out the upcoming season with three seasons remaining to play afterwards. Clayton Thorson, a senior, is the expected starter at Northwestern this season.
< PREV

Jim "Doc" Murphy returns to McNeese as Director of Sports Medicine

NEXT >

The First Tee of Greater New Orleans announces partnership with Walmart, Coca-Cola Bottling Company United and partner brands
Rene Nadeau
CCS/Fox Sports/ESPN/WFAN
Born and raised in the New Orleans area, Rene Nadeau has been involved in sports ever since his earliest memories. Rene played basketball, wrestled, ran track, and was an All-District running back in football at John F. Kennedy High School. He went on to be a member of the LSU football program, developing a passion for the game in even…