Records fall at LSU's annual Pro Timing Day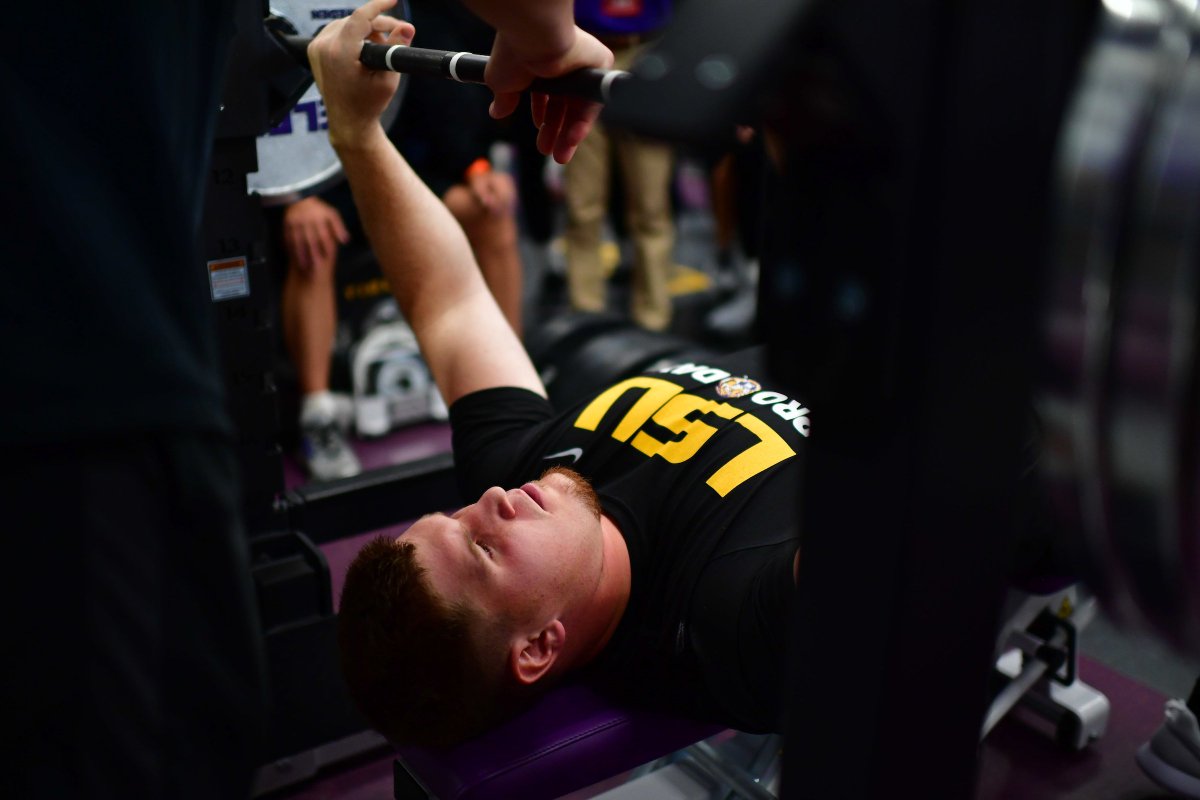 BATON ROUGE – Christian LaCouture set a LSU Pro Timing Day record with 41 reps in the 225-bench press and Donte Jackson set another school record at the event with a 4.31 time in the 40-yard dash here Wednesday at the Charles McClendon Practice Facility.
All 32 NFL teams were on hand for LSU's Pro Timing Day as the event featured 24 former LSU football players along with Brian Bridgewater (LSU basketball) and Aaron Ernest (LSU track and field).
"We are proud of these guys and what they accomplished today," LSU coach Ed Orgeron said. "They are going to continue the LSU tradition in the NFL. We have more players in the NFL than any other school and they are going to help keep that tradition going for us."
Orgeron went on to compliment the LSU players for more than what they accomplished on the field.
"These are men of great character from a great program who come from great families. Whoever gets them is going to get a great NFL player.
"It also says that we go out and recruit the right guys, develop them and graduate them. These guys here today are going to leave LSU with a degree and a chance to play in the NFL and that's our goal for them.
Among the highlights of the day was a 41-rep bench press from LaCouture, who also went 29.5 in the vertical and 5.15 in the 40-yard dash. The 41 reps by LaCouture on the bench press was the most on record at LSU Pro Day and would have tied for second-most at the 2018 NFL Combine.
Jackson bettered his 4.32 clocking at NFL Combine with a school-record 4.31 in the 40-yard dash on Wednesday. The 4.31 40 represents the fastest time on record for a football player at LSU Pro Day. Jackson also shined during the individual workouts.
"Donte' was fantastic in the individual drills," Orgeron said. "His footwork was great and he did a tremendous job of catching the football. He's going to be an outstanding player in the NFL."
Another standout on Wednesday for the Tigers was wide receiver Russell Gage, who turned the heads of NFL scouts after missing out on an invite to the NFL Combine. Gage was clocked at 4.42 in the 40, jumped 39 inches in the vertical and went 10-feet, 2-inches in the broad jump.
"Russell is a great player and an outstanding young man," Orgeron said. "The NFL head coaches and general managers I've talked to are raving about him. He can play offense and special teams. He's going to be an excellent NFL player for a long time."
Other standouts for LSU on Wednesday included defensive tackle Frank Herron with 25 reps in the bench press; running back Darrel Williams with a 4.59 time in the 40 and outside linebacker Corey Thompson with a 38-inch vertical jump.
.@MikeMayock gives you his takeaways from @LSUFootball's pro day ⬇️ pic.twitter.com/GF33bghcfU

— NFL Network (@nflnetwork) April 4, 2018
Complete results from 2018 LSU Pro Day can be found at www.LSUsports.net/proday.
The NFL Draft takes place April 26-28 in Arlington, Texas.
< PREV

Top programs taking advantage of spring reps

NEXT >

Tulane concludes ninth practice of spring football
Michael Bonnette