Playoff-bound Pelicans have earned the best support fans can offer
April 12, 2018
By Les East
Category: Pelicans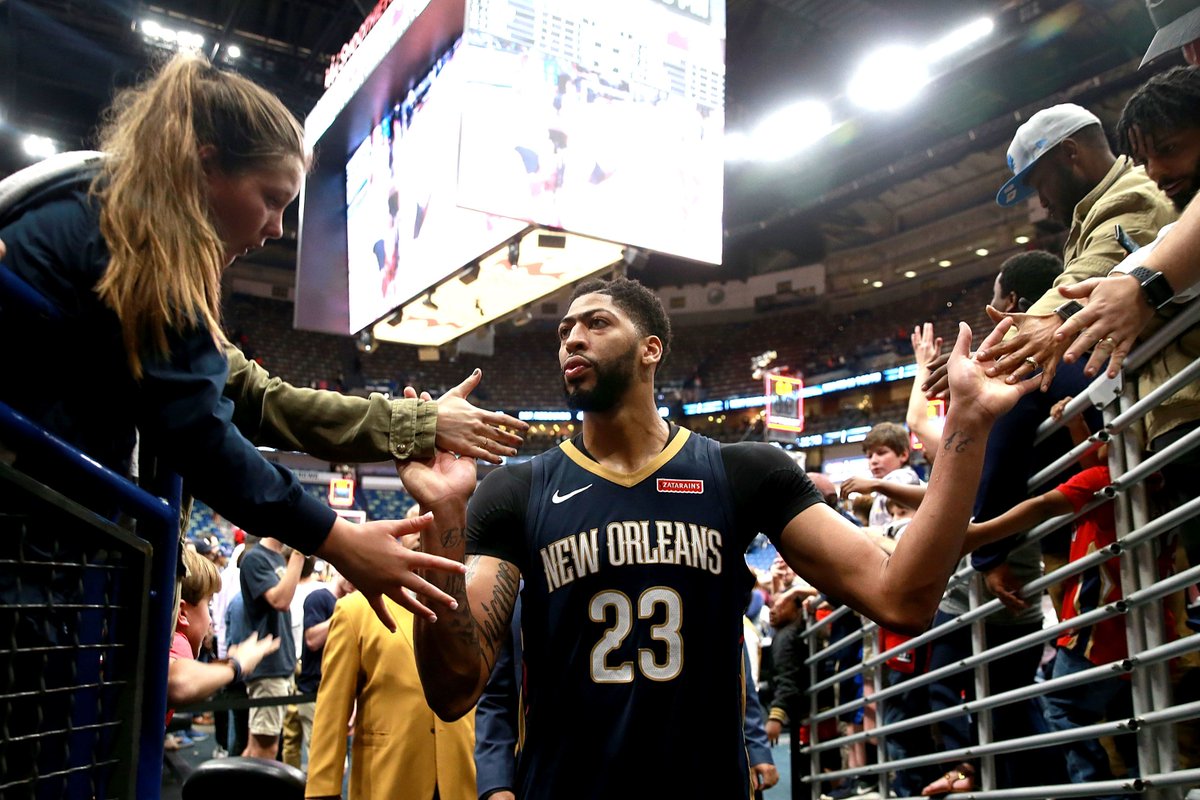 NEW ORLEANS — The New Orleans Pelicans are in the playoffs for the first time in three seasons.
The front office did its part as general manager Dell Demps made a mid-season trade to acquire Nikola Mirotic from Chicago and save a season that was in danger of going down the drain after DeMarcus Cousins' Achilles injury.
Coach Alvin Gentry, his staff and the players did their part, overcoming Cousin's absence, acclimating Mirotic and winning 20 of their last 28 games to grab the No. 6 seed in the Western Conference.
Now it's the city's turn.
Though the best-of-seven first-round series will begin with 9:30 p.m. CDT games in Portland on Saturday and Tuesday, the Smoothie King Center will be the site and Games 3 and 4 — at least — as playoff basketball returns to New Orleans.
"My goal is that I want to see this arena the way it was when I was here when I was with Golden State," Gentry said of the Warriors' 4-0 first-round sweep of the Pelicans. "I mean, it was unbelievable. The sold-out arena and the fans were so – I mean, you can't help but have a boost when you have a crowd like that. That's what I hope we can accomplish when we come back to play here at home."
This team has proved itself worthy of a home-court advantage as good as any in the NBA. The passion of the announced sellout crowd for the 122-98 victory over San Antonio in the regular-season finale in the Smoothie King Center on Wednesday night in the Smoothie King Center, suggested New Orleanians are getting pumped for the post-season.
But this is a full-time football town that dabbles in basketball. The impending start of the NBA playoffs merely adds to the excitement that already was building for the approaching NFL draft.
After the Pelicans won their fifth straight game to end the regular season, guard Jrue Holiday was asked if he thought the city was ready for the playoffs.
"I hope so," Holiday said. "I know we're ready. I feel like we've been showing it as a team — getting these wins and being able to win in big situations. I think they're ready. Hopefully for games three and four they're going to be there for us and be our sixth man just like they've always been."
The Pelicans lost five of their first six games without Cousins, then won 10 straight. They lost four of their next five, then won four straight and lost four straight to come perilously close to falling out of the top eight spots in the West before their finishing kick.
They have an elite player in Davis, a standout player who raised his game after Cousins' injury in Holiday and savvy veteran leader who lives for this time of the year in Rajon Rondo.
Then there's Mirotic.
His return to the starting lineup after a stint as sixth man coincided with the five-game winning streak. In the last five games he has averaged 26.8 points and 8.0 rebounds and made 50 percent (24 of 48) of his 3-pointers.
In that time the team has averaged 121 points and won by an average of 18 points.
In Portland, New Orleans is facing a team that lost four straight before beating Utah, 102-93, in its regular-season finale Wednesday and with which it split the season series.
This shapes up as a toss-up series that could be one of the most compelling in the first round.
How about it, New Orleans?
Are you ready for some basketball?
< PREV

Gayle Benson's letter to NFL owners stresses commitment to owning Saints until death

NEXT >

Video: Cook pitches De La Salle past St. Charles Catholic in key district matchup
Les East
CCS/106.1 FM/Daily Iberian
Les East is a nationally renowned freelance journalist. The New Orleans area native's blog on SportsNOLA.com was named "Best Sports Blog" in 2016 by the Press Club of New Orleans. For 2013 he was named top sports columnist in the United States by the Society of Professional Journalists. He has since become a valued contributor for CCS. The Jesuit High…