Pelicans hold off Blazers to take playoff series opener in Portland
April 15, 2018
By Ken Trahan
Category: Pelicans
Game 1 in the books. #DoItBigger pic.twitter.com/7gW1SmwuJa

— New Orleans Pelicans (@PelicansNBA) April 15, 2018
It had been since 2011 that the New Orleans NBA franchise has won a playoff game. That ignominious statistic is no longer part of the discussion.
The New Orleans Pelicans dominated the Portland Trail Blazers for 3 1/2 quarters before holding on for dear life by holding off a furious Portland charge for a 97-95 win Saturday night at Moda Center.
Jrue Holiday got a huge block on a Pat Connaughton layup attempt with 6.3 seconds left. Anthony Davis came up with the loose ball, was fouled and calmly sank both free throws to secure a huge win.
Davis finished with 35 points, 14 rebounds and four blocked shots. He was easily the best player on the floor and set the tone early.
After opening the game by hitting a mid-range jumper on Jusuf Nurkic, Davis then got a defensive rebound.
The game was played at a back and forth pace early and overall at a slow pace.
Pelicans head coach Alvin Gentry went to Cheick Diallo with 2:36 to play in the first quarter and rested Davis. Diallo had not played much down the stretch in the regular season.
Holiday and Davis combined for 19 of the team's 21 points in the period. Davis had eight points and five rebounds while Holiday had 11 points and four rebounds. New Orleans shot just 37 percent in the quarter as New Orleans had a 21-18 lead after one quarter.
Portland went on a 7-0 run early in the second quarter but New Orleans had a 14-0 run late in the period and carried a 45-36 lead into halftime, closing the half on a 16-8 rush.
The half was a complete revelation of each of the team's two stars.
For New Orleans, its stars were shining as Anthony Davis had 17 points, six rebounds and two blocked shots while Jrue Holiday had 15 points and four rebounds.
For Portland, Damian Lillard and CJ McCollum combined to go 1-for-15 in the half for just three points. It was the worst combined shooting half of their career.
Portland entered the game shooting 29.6 percent from 3-point range in the final 12 games of the regular season. They shot 30.8 percent in this one (12-for-39).
New Orleans lengthened its lead to 55-42 early in the third quarter and built the lead to 19 at 69-50 but Portland cut into the deficit with Davis resting in the final three minutes of the period and New Orleans led 75-63 going to the final quarter.
Portland went on a run to start the fourth quarter as the Pelicans committed three turnovers in four possessions. The run reached 20-8 as Portland forced a New Orleans timeout at 77-70 with 9:06 to play in the game. Rondo settled it down with a driving layup before Davis had a huge and-one on a follow-up shot to restore order out of the timeout.
The Blazers went on an 8-0 run to make it 88-85 against an obviously tiring New Orleans squad but Ian Clark knocked down a huge 3-pointer with 2:28 left to make it 91-85.
New Orleans looked fatigued and discombobulated down the stretch as the Pelicans became stationary, stagnant on the offensive end, got bad shots, turned the ball over and could not get a defensive rebound to save their lives, but they found a way to hold on.
Davis got a big loose ball on a miss by Lillard and was fouled with 12.4 seconds left. He made both free throws to make it 95-92.
Holiday then came up with his huge block of Connaughton  – his third key defensive play of the final minute – and Davis came up with it and was fouled and put the game away with his two free throws.
Lillard pumped in 41 points and was unstoppable in a 107-103 win at New Orleans on Mar. 27. That was the reason the Blazers earned home court advantage over the Pelicans. He played the entire second half in this one and finished with 18 points but on just 6-of-23 shooting. McCollum had 19 points but he was only 7-of-18 from the field.
The game nearly got away due to fourth quarter turnovers and the offensive rebounding of the Blazers, who finished with 15.
New Orleans was the only road playoff team to win on this day in the league, another illustration of how tough it is to win on the road, though it should not come as a surprise as the Pelicans were 24-17 on the road in the regular season.
Gentry on getting the Game 1 win! #DoItBigger pic.twitter.com/0UJmfF9nCt

— New Orleans Pelicans (@PelicansNBA) April 15, 2018
The postseason victory is just the fourth on the road in franchise history, dating to the Hornets in 2003.
Playoff experience matters.
Mirotic played in 17 playoff games with Chicago. Rondo played in his 97th playoff game on this night. Mirotic had 16 points and 11 rebounds, four blocked shots, three assists and two steals. Rondo had six points, 17 assists and eight rebounds. Ian Clark was key off the bench with 10 points.
Now, the Pelicans have a real taste of what playoff baseball is. Neither team reached 100 points and there were a total of 22 free throw attempts. The postseason game is more of a half-court, very physical contest.
New Orleans held Portland to just 37.8 percent shooting from the field. That enabled the Pelicans to overcome losing the rebound and turnover battle.
Davis became just the player to record fifth player with 25 points each in his first five NBA playoff games, joining Wilt Chamberlain, Kareem Abdul-Jabbar, LeBron James and Earl Monroe in that elite group.
While Davis, Holiday and Mirotic were big on the offensive end, they were just as big on the defensive end. The Pelicans blocked 12 shots and the trio combined for 10 of those.
Game 2 is Tuesday night, plenty of time to rest and to prepare for both teams. With the road win in the bank, the Pelicans are playing with house money and should be loose. Portland will be desperate. It will take a big effort to win again.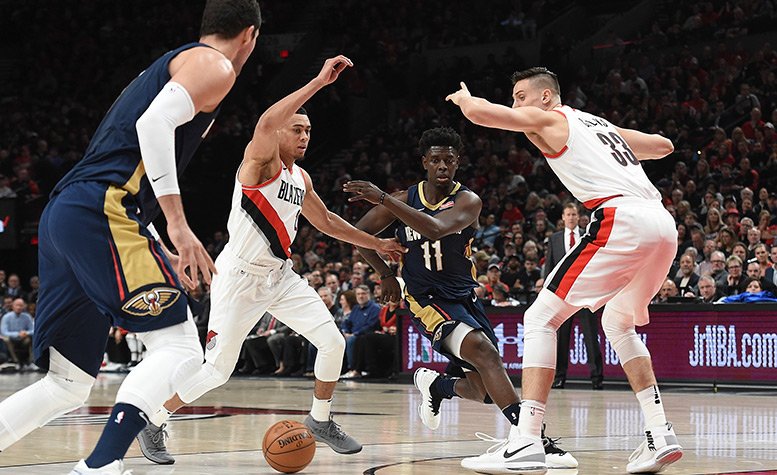 < PREV

Southeastern snaps skid, splits doubleheader at Northwestern State

NEXT >

Slaughter, bats stay hot for LSU in 14-5 win over Tennessee
Ken Trahan
Owner/CEO
Born and raised in the New Orleans area, CCSE Owner and CEO Ken Trahan has been a sports media fixture in the community for nearly four decades. Ken started NewOrleans.com/Sports with Bill Hammack and Don Jones in 2008. In 2011, the site became SportsNOLA.com. On August 1, 2017, Ken helped launch CrescentCitySports.com. Having accumulated national awards/recognition (National Football Foundation, College…