Now 2-0 at SSAC Championship, Loyola run-rules Blue Mountain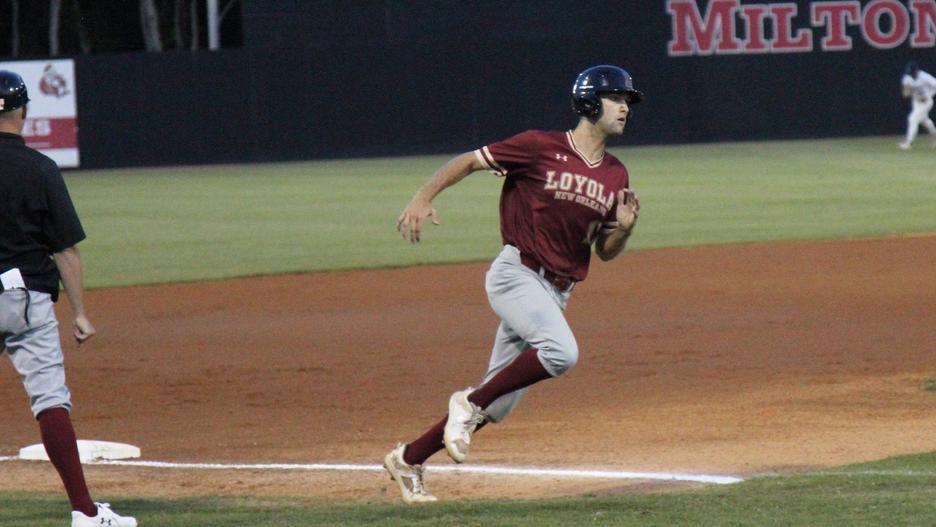 17th-ranked Wolf Pack needs just one win to make it to the SSAC Championship title game
HATTIESBURG, Miss. – The No. 5-seed Loyola Wolf Pack baseball team scored 14 runs in two innings on Thursday against No. 8-seed Blue Mountain Christian, dominating the Toppers for a 14-2 win in an SSAC Championship winner's bracket game.
The Pack's next opponent won't be determined until Friday afternoon, as top-seeded William Carey and Blue Mountain will meet again for the right to play Loyola. Whichever team wins that contest will have to beat Loyola twice to advance to the SSAC Championship title game while the Pack needs just one win.
Blue Mountain Christian pushed across one run in each of the first two innings, both unearned runs, though. Two Wolf Pack errors resulted in the Toppers taking a 2-0 lead after two innings of play.
After four scoreless innings for Loyola, the bats woke up in the fifth. The Pack quickly tied the game up with a two-run home run off the bat of Aaron Davis, as Landon Trosclair started the frame with a walk. Brandon Mooney kept things going with a single during the next at-bat, then Cole Romero tripled to make it a 3-2 Loyola lead. Ross Selvaggi, Kason Cullins and Christopher Bohrer consecutively walked after BMCU changed pitchers, loading the bases, and Selvaggi scored off a sacrifice fly from Anthony Fernandez. Jake Mills' RBI double ended the scoring in the inning with the Wolf Pack ahead 5-2.
The sixth inning was even better for Loyola. With Davis and Romero on base, Selvaggi's double gave Loyola a 7-2 lead, and a bases-loaded hit batter with Mills at the plate brought home Loyola's eighth run. A fielder's choice off the bat of Trosclair and a bases-loaded walk for Davis pushed the lead to 10-2. Mooney added a two-RBI single right after that, as a third run came home on a throwing error by the Toppers on the same play, 13-2. Finally, a wild pitch scored Romero, giving Loyola a commanding 14-2 advantage.
After giving up the two unearned runs, Thomas Hakimian put zeros on the board in the next four innings to earn the win. He finished his outing with three strikeouts while giving up six hits in the contest. The freshman allowed just three hits in those last four innings, including a 1-2-3 frame in the third. Reid Perkins pitched a clean seventh inning with two flyouts and a groundout to help bring the run rule into effect.
Pack Facts
– This was Loyola's ninth game this season with a double-digit margin of victory. It's also the team's second time run-ruling Blue Mountain.
– For the second game in a row, all nine Wolf Pack offensive starters reached base. Seven different players accounted for the team's nine hits, and nine different players scored runs.
– Aaron Davis led the team in the runs category, crossing home plate three times, plus a team-high three RBI. Davis also hit his third home run of the season, and seventh of his career, to tie the game in the fifth inning.
– Brandon Mooney and Jake Mills each recorded two hits, with Mills hitting his fourth double of the season. Mooney also scored twice.
– After Stephen Still set the new program record for career strikeouts on Thursday, another record is in danger of being broken, as Mooney is just one away from tying the program's single-season runs record.
– Scoring 60 runs this season, Mooney is in third place on the leaderboard behind Payton Alexander and Allen Dennis, who are tied for the record with 61. This is now the third season in a row in which a Wolf Pack player has amassed 60 runs.
– Mooney, whose .407 batting average leads the team, is also up to 77 hits this season, three away from tying the all-time record and fourth on the leaderboard.
– Cole Romero hit his fourth triple of the season in the fifth inning, driving in Mooney in the process for his 51st RBI of the year. That number is tied for ninth on Loyola's single-season RBI list, while his four triples are the seventh-most in a season for the program.
– This is the first time this season in which a Loyola player has hit a triple in back-to-back games, as Aaron Davis also had one on Thursday.
– Thomas Hakimian, who got his third pitching win of the season, pitched six innings without any earned runs. His ERA is now under 4.00 at 3.97.
SSAC Baseball Championship Schedule
Wednesday, May 3
Game 1: #5 Loyola def. #4 Middle Georgia, 4-0
Game 2: #3 Mobile def. #6 Faulkner, 4-2
Game 3: #2 Talladega def. #7 Brewton-Parker, 6-4
Game 4: #8 Blue Mountain def. #1 William Carey, 8-7 (11)
Thursday, May 4
Game 5: #6 Faulkner def. #7 Brewton-Parker, 13-6, Brewton-Parker eliminated
Game 6: #1 William Carey def. #4 Middle Georgia, 14-1 (7), Middle Georgia eliminated
Game 7: #3 Mobile def. #2 Talladega, 7-5
Game 8: #5 Loyola def. #8 Blue Mountain, 14-2 (7)
Friday, May 5
Game 9: #2 Talladega v. #6 Faulkner, 9 a.m.
Game 10: #8 Blue Mountain v. #1 William Carey, 12 p.m.
Game 11: #3 Mobile v. Gm 9 winner, 3 p.m.
Game 12: #5 Loyola v. Gm 10 winner, 6 p.m.
Saturday, May 6
If Necessary: Gm 12 winner v. Gm 12 loser, 10 a.m.
If Necessary: Gm 11 winner v. Gm 11 loser, 10/1:00 p.m.
Championship: TBD
All times CDT
< PREV

Lutcher downs Lakeshore in game one, 7-3

NEXT >

Rebecca DeKay wins the Southland 10,000 Meter Championship
Camal Petro