Meet new LSU cornerback Terrence Alexander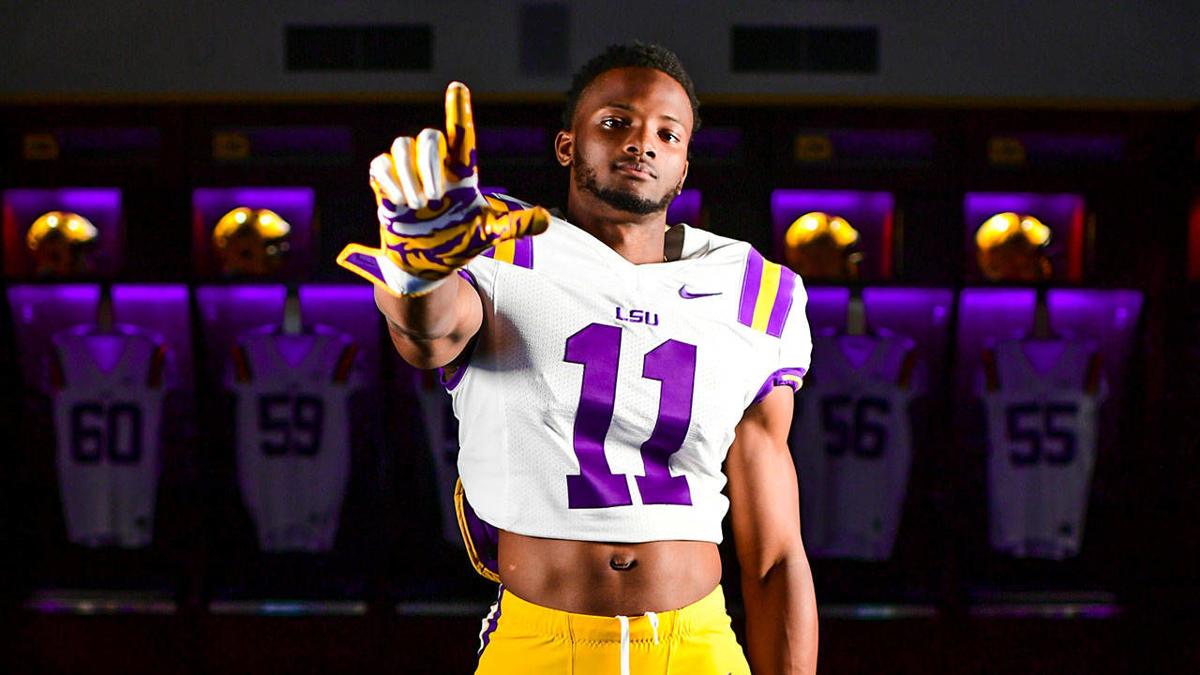 If you're a talented graduate transfer cornerback in college football, chances are you will have your choice for landing spots.
LSU had a pressing need at cornerback. Terrence Alexander played his high school football at John Curtis Christian School. It appeared to be an ideal marriage but Alexander wanted to make sure it would be the correct decision.
"Tennessee was in the mix, and I had a trip to Florida the week after I decided on LSU," the former Stanford defender said. "But family and location were a big draw."
Additional factors helped LSU, like the fact he was already close with a number of his new Tiger teammates including defensive back Ed Paris and linebacker Michael Divinity.
With an eye to the future, LSU made for a perfect fit. "I could have returned to Stanford, but this is a new home, a new opportunity. It's moving forward with my career. The SEC is the highest ranked in the country. Catching up with family and location made the decision easy."
Alexander only played in one game in 2017 due to injuries, earning a medical redshirt. He did record 57 tackles in 41 games appearances during his time at Stanford.
Alexander is continuing to run track with the Cardinal where he excels in the 100 and 200 meters. He has run a 10.8 hundred thus far, along with 21.6 seconds posted in the 200 meters.
"I'd like to get to 10.7 (in the 100 meters). I've added 8-10 pounds since football ended. I'm about 190 lbs. I'm trying to use track, but want to be careful with my hamstrings," he explained.
Alexander may want the challenge of playing in the SEC, but he has alreayd been tested. While playing at Stanford, he faced some of the premiere passers in college football – USC's Sam Darnold, UCLA's Josh Rosen, Washington State's Luke Falk and Washington's Jake Browning.
"Facing those guys, you play at another level, knowing they can make every throw. Josh and Sam can throw all over the field. If there is a bust (in coverage), they will capitalize. Every mistake the defense makes counts," Alexander noted.
However, he also thinks the SEC is a step up compared to his previous experience. "As a cornerback, it's faster in the SEC. You have to be more aggressive. There is more pressure on the QB's. In the PAC 12, the QB will release the ball sometimes over four seconds following the snap. In the SEC, he has to let the ball go within two-and-a-half to three seconds. It's harder to scramble in the SEC so passers unload the ball fast."
While in the PAC-12, he frequently crossed paths with former John Curtis teammates Kenny Young at UCLA and Mattrell McGraw at Oregon. He shared a locker room with other current NFL players like Andrus Peat (Saints) and Christian McCaffrey (Panthers) among others.
Heisman candidate Bryce Love returned for his senior campaign. "He is a workhorse," Alexander explained about the talented running back. "He does a lot behind the scenes. He has that urgency. He knows his goals."
There is another grad transfer considering the Tigers as well, former California running back Trey Watson, who Alexander faced in the big rivalry between the Cardinal and Golden Bears. "He brings fire. He's one of the better running backs we've faced."
It will be an interesting transition for Alexander, having played for Stanford head coach David Shaw and now moving into Ed Orgeron's program.
"Coach Shaw establishes a high standard. You know what is expected. You have to conform. The Stanford body is tough academically and athletically. He expects you to conform. He is 100 percent about business. He's always thinking ahead, out of the box. Coach Orgeron is very personable with you and your family. He's passionate. He has high expectations. He really wants to be successful. You can feel it," Alexander explained.
Of course, Alexander played for one of America's most successfull high school coaches as well. "Coach J.T. Curtis establishes standards. They teach you to overcome. The process works. I can only say thank you."
Curtis feels it will be a great fit at LSU. "(Terrence) brings experience in big games, and that will help a young (LSU) secondary. Also his versatility having played cornerback and nickel corner, throughout the course of the season, will be a very valuable asset. He's very intelligent and highly-motivated. His skills will help the young secondary in the direction they want to go."
As for his coaching in Baton Rouge, Alexander should form a bond with his new defensive coordinator.
"Terrence and Dave Aranda have a lot in common, a cerebral approach," Curtis added.
Aranda's schemes are unique and challenge the players to perform at a high level
"I think his defense fits my skills," said Alexander. "Lots of islands, man to man, bump press. You will have to earn everything that you get. It'll be tough."
Alexander understands the expectations upon his arrival but they are no different from those he has for himself.
"I already have high expectations. I don't read anything into expectations," he stated confidently. "I can see the blueprint where I want to be. I can improve . You realize there is always a way to be better. I also want to help others get there."
His favorite players are the retired Joe Horn and a pair of current NFL defensive backs – Tyrann Mathieu and Janoris Jenkins. All are similar in size.
The NFL is in his long range plans, but first he wants success this season.
"My decision was based on the future," said Alexander. "This opportunity will get me a better understanding and help me grow as a player. This all comes through competition. You have to challenge yourself. It all comes in the film room and at practice, working hard everyday. Big time players make big time plays. I'm looking forward to the next stage in my career."
< PREV

Kendrick is state coach of the year; Tomasoni 1st team

NEXT >

Riverdale ends long playoff drought with 8-7 extra inning win over Leesville
Rene Nadeau
CCS/Fox Sports/ESPN/WFAN
Born and raised in the New Orleans area, Rene Nadeau has been involved in sports ever since his earliest memories. Rene played basketball, wrestled, ran track, and was an All-District running back in football at John F. Kennedy High School. He went on to be a member of the LSU football program, developing a passion for the game in even…