LSU and Northwestern State sent West to Corvallis for NCAA Baseball Regional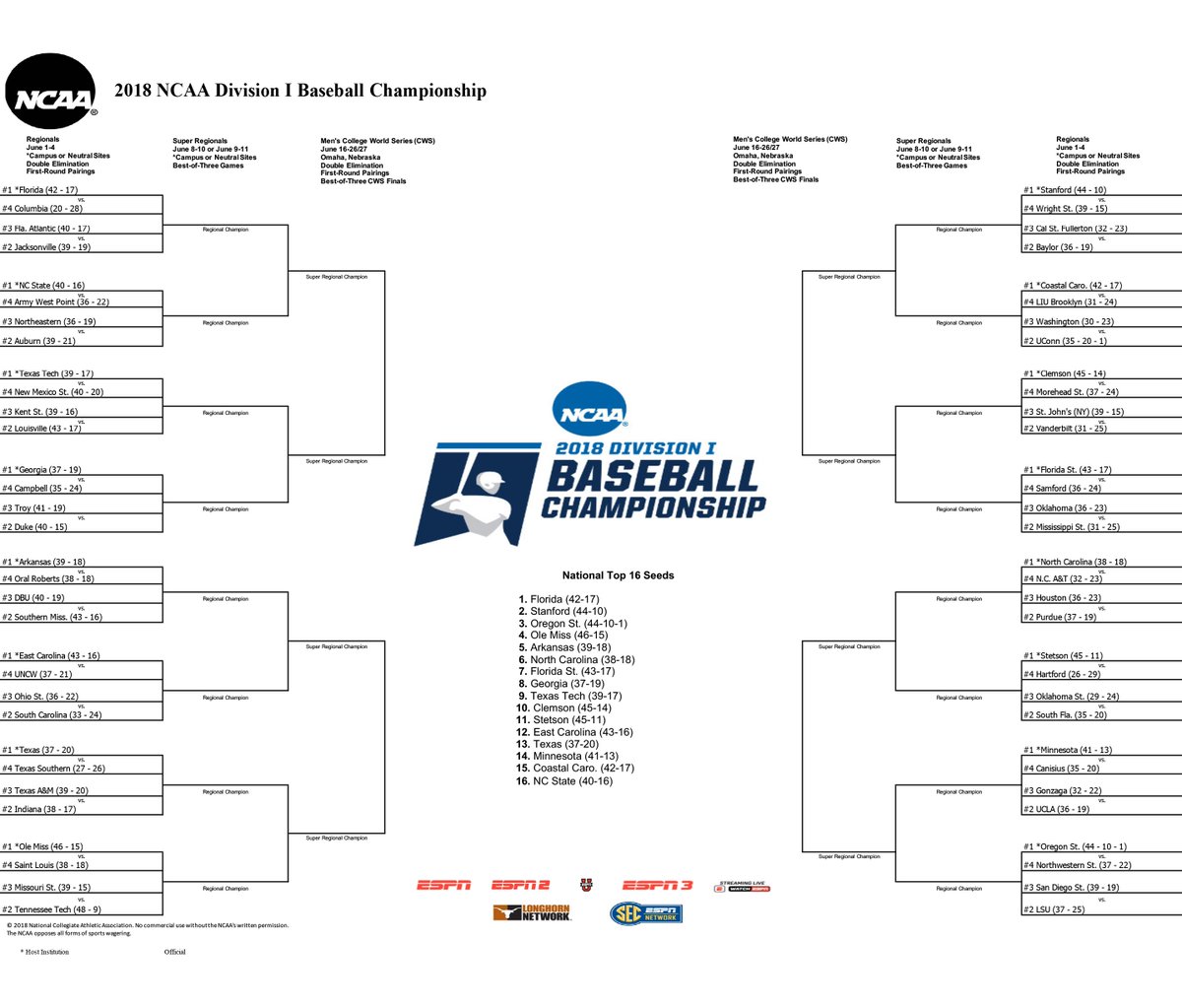 Inevitably, some teams have to travel pretty good distances to play in the 64-team NCAA baseball tournament Then, there are those who must travel enormous distances,.
Washington has to travel all the way to Conway, South Carolina, a distance of 2,987 miles from Seattle. UCLA has to travel all the way to Minnesota to Minneapolis, a distance of 1,925 miles.
Then, there is the plight of the two Louisiana teams making the field.
LSU (37-25) worked its way up to a second-seed from the bubble with a run to the SEC Tournament championship game. That is the good news.
The bad news is that the Tigers are being sent the second longest distance of anyone in the field, all the way to Corvallis, Oregon to face the third overall national seed, possibly the best team in the nation in Oregon State, a distance of 2,473 miles. Northwestern State must travel 2,302 miles to the same destination.
The Demons must face the host Beavers in the opening round while the Tigers take on third-seed San Diego State in the opening round.
The Beavers (44-10-1) are an astounding 100-16-1 over the last two seasons. They reached the College World Series a year ago and got knocked out by LSU. They have the top offense in the nation. They are at home, with a host of players back from last year's squad.
Oregon State reached Omaha a year ago by whipping Vanderbilt in two games in the Super Regional round. The Beavers went on to clobber LSU 13-1 in Omaha before the Tigers eliminated Oregon State with 3-1 and 6-1 victories en route to reaching the national championship game. Current LSU ace Zach Hess finished both wins against the Beavers a year ago.
The Beavers are hitting .318 as a team with six regulars hitting over .300. They sport an impressive 3.43 ERA, led by Luke Heimlich (14-1, 2.40) and Bryce Fehmel (9-1, 2.81). Jake Mulholland and Brandon Eisert have combined for 14 saves.
Northwestern State (37-22) earned its way by winning the Southland Conference Tournament. The Demons are led by the league's player of the year, senior slugger David Fry, who was also the Southland Tournament MVP.
While LSU is likely disappointed to travel so far to have to beat an opponent who is loaded and bent on revenge, the Demons are likely happy to have the opportunity to do so.
San Diego State (39-19) won its fifth Mountain West title in six years. The Aztecs are a good hitting team as well, batting .305. Jordan Verdon is batting .341 with 12 home runs and 65 RBI while Chase Calabuig is hitting a team-best .359 with five home runs and 46 RBI. San Diego State sports a 3.90 ERA.
The Aztecs do not have a legitimate ace by the numbers, and Friday night starter Harrison Pyatt sports a 4-4 record with a 4.44 ERA. Garrett Hill is 7-2 with a 3.58 ERA, Jacob Erickson is 5-3 with a 3.19 ERA and Jorge Fernandez 6-3 with a 4.65 ERA.
The winner of the Corvallis regional is bracketed with the winner of the Minnesota regional. Should LSU or Northwestern State emerge victorious in Corvallis, they would likely face another very long trip to Minneapolis.
If there was any debate about the top conference in the nation, the NCAA Division 1 college baseball pairings answered those questions once again.
The SEC, for lack of a better description, rules in college baseball.
The league has four of the top eight seeds overall, including top overall seed and defending national champion Florida. The conference has 10 teams among the 64 teams in the field. Both of those distinctions tie the tournament record. Kentucky, which got left out, likely deserved to be in the field but was perhaps a victim of its own conference's success and numbers.
Here's a look at the seeded regional hosts:
NCAA Tournament Top 16 seeds (all hosts)
1. Florida (42-17)
2. Stanford
3. Oregon St.
4. Ole Miss
5. Arkansas
6. North Carolina
7. Florida St.
8. Georgia
9. Texas Tech (39-17)
10. Clemson (45-14)
11. Stetson (45-11)
12. East Carolina (43-16)
13. Texas (37-20)
14. Minnesota (41-13)
15. Coastal Carolina (42-17)
16. NC State (40-16)
Auburn just missed a top 16 seed. The Tigers are heading to Raleigh as North Carolina State is the top-seed as the unofficial 17th overall seed. South Carolina is the second-seed at East Carolina, playing close to home. Texas A&M, as a third-seed, is being sent to Texas as the hated rivals are forced together against their wills.
It should be quite interesting. Vanderbilt is the second-seed at Clemson. You can never sell the Commodores short, with their proven strength on a national stage in recent years. Mississippi State is the second-seed at Tallahassee with Florida State as the top-seed.
Kentucky was left out.
A strong regional can be found at Fayetteville, with Arkansas hosting.
Southern Miss (43-16) is a strong second-seed at Arkansas while Dallas Baptist is 40-19 and Oral Roberts is 38-18 and a solid program.
The last four teams in as at-large teams were Dallas Baptist, Northeastern, Oklahoma State and Troy. The last four teams out were Arizona, Illinois, Kentucky and Central Florida.
There is a bright side for LSU and Northwestern State having to travel so far. Any fans from Baton Rouge and Natchitoches who have frequent flyer miles should log enough miles to get a free flight sometime in the future.
The regional placement is a stark reality check for an LSU program unaccustomed to not hosting this time of the year. The lesson is obvious — play well enough to get a national seed and avoid the potential of jet lag.
< PREV

With host sites set, where will Tigers, Demons head for NCAA baseball?

NEXT >

Analysis: LSU, Northwestern State to get tough test at Oregon State
Ken Trahan
CEO/Owner
Born and raised in the New Orleans area, CCSE CEO Ken Trahan has been a sports media fixture in the community for nearly four decades. Ken started NewOrleans.com/Sports with Bill Hammack and Don Jones in 2008. In 2011, the site became SportsNOLA.com. On August 1, 2017, Ken helped launch CrescentCitySports.com. Having accumulated national awards/recognition (National Sports Media Association, National Football…