LSU survives against Yale in typical fashion
LSU throwing it DOWN! 💪#MarchMadness pic.twitter.com/iIkVsJhf9j

— NCAA March Madness (@marchmadness) March 21, 2019
It was a tale of two halves Thursday for LSU in Jacksonville.
First, there is the good news.
The third-seeded Tigers are moving on to the NCAA round of 32 after a 79-74 win over No. 14 Yale.
It was a case of surviving. Make no mistake about that.
Typical of LSU, they could not put an opponent away.
Despite a brilliant season, it has been dominated by close games, many of which the Tigers build solid leads in and then went through a dormant offensive lapse which allowed an opponent to come back.
That was the case in this one.
Basically, LSU may have won the game in the opening minutes.
The Tigers (27-6) jumped out to a 9-0 lead and never trailed in the game.
They were brilliant in the first half.
LSU shot 60 percent (18 of 30) from the field and scored 26 points in the paint in the first half.
Tremont Waters was dominant with 13 points and six assists. Kavell Bigby-Williams was a force inside with eight points, seven rebounds and four blocked shots. The Tigers held Yale to just 29 percent shooting from the field.
The second half was totally different.
LSU shot just 10 of 31 (32%) from the field in the second half. The Tigers became stagnant on offense, going one-on-one much too much and not going back inside, where they had a huge advantage.
Perhaps not having Will Wade on the sideline hurt but, as mentioned, this has been a familiar script for the Tigers this season.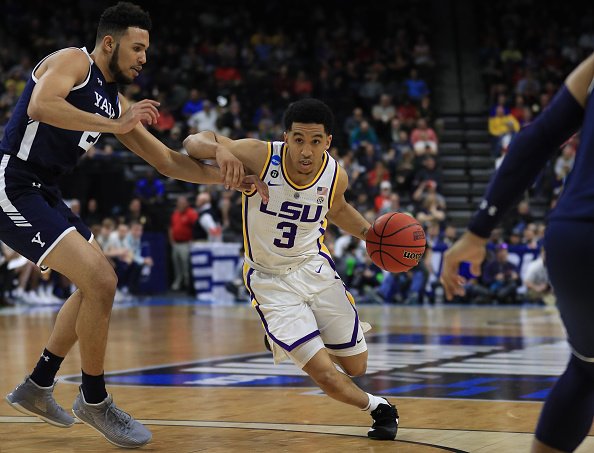 LSU, normally a very good free throw shooting team, shot free throws poorly until it mattered.
In the final minute, the Tigers sank 9 of 10 from the line to hold on for the win.
Yale (22-8), which shot 37 percent from 3-point range on the season, could not buy a triple until the final minutes. The Bulldogs finished a miserable 8 of 37 (21%) from beyond the arc and that allowed LSU to escape with the win.
Give LSU credit for doing an excellent defensive job on Miye Oni. The NBA prospect was held to just five points on 2 of 16 shooting from the field, including 1 of 10 from the free throw line.
Most of that credit belongs to Marlon Taylor, who guarded Oni throughout.
Alex Copeland kept the Bulldogs in it, scoring 24 points.
Bigby-Williams was in foul trouble in the second half and that hurt LSU. Still, with four fouls, he did not re-enter the game in the final four minutes, a puzzling decision. Bigby-Williams finished with 10 points, 10 rebounds and four blocked shots.
After his big first half, Waters scored just two points in the second half and finished with 15 points. Skylar Mays led LSU with 19 points. Naz Reid had 14 points and 10 rebounds to help offset five turnovers.
LSU won the battle of the boards 45-39.
Once again, LSU was poor from 3-point range, making just 4-of-17 (23.5%), which remains the weak spot of this team.
Yale certainly had a shot down the stretch as LSU floundered on offense and chased the ball on defense but the Bulldogs were never able to get on top.
This was a typical LSU victory this season. The Tigers were superb at times, had a prolonged lull then found a way to win.
LSU survived. The Tigers beat a team they were supposed to beat. They will need to play better Saturday at 11:10 a.m. against sixth-seed Maryland, 79-77 winners over Belmont later Thursday, if they have aspirations of reaching the Sweet 16. Those lulls will have to become shorter, lesser, if not totally eliminated or LSU will be eliminated.
< PREV

2019 LHSAA Girls' Basketball All-Tournament Team

NEXT >

Double major champion Brooks Koepka will team with his brother in Zurich Classic
Ken Trahan
Owner/CEO
Born and raised in the New Orleans area, CCSE Owner and CEO Ken Trahan has been a sports media fixture in the community for nearly four decades. Ken started NewOrleans.com/Sports with Bill Hammack and Don Jones in 2008. In 2011, the site became SportsNOLA.com. On August 1, 2017, Ken helped launch CrescentCitySports.com. Having accumulated national awards/recognition (National Football Foundation, College…