Loyola's Smithers wins Louisiana Women's Amateur Golf Championship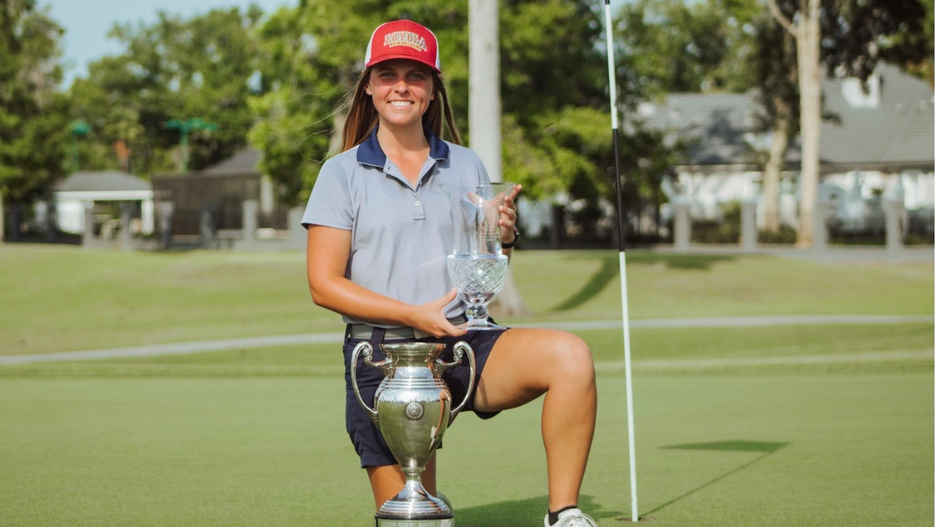 Emma Smithers, a senior at Loyola and a Mississippi native, will compete in the Mississippi Women's State Amateur Championship July 25-27 at Windance Country Club in Gulfport, Mississippi.
NEW ORLEANS – The 2022-23 golf season might be over for the Loyola University New Orleans women's golf program, but members of the team are still competing this summer. Emma Smithers, Blair McKenzie, Catherine Singletary and Hannah Pitre all took part in the 95th Louisiana Women's Amateur Championship last month, as Smithers claimed the Championship on the third playoff hole of her title match.
"I was glad for it to be over," Smithers said about seeing her final putt go in. "I hit a really great second shot into the last playoff hole. I had this hunch that we can close it out now and I didn't want to play another playoff hole. It was an awesome feeling. I had two of my teammates and my dad there for Father's Day. I'm not sure I can top that for next Father's Day."
The four Wolf Pack golfers and the rest of the field playing in this year's Louisiana Amateur Championship took part in stroke play during the first round of the tournament. Then the Top 16, which included Smithers and McKenzie, were seeded one through 16 in a match play bracket. Smithers dominated her first-round match (6&5) before winning the next two matches without reaching the 17th hole (4&2; 3&2) to set up a shot at the Championship. After finishing 18 holes all-square in the final round, Smithers and her championship opponent played three playoff holes before the Ellisville, Mississippi, native made a birdie on the third hole of Ellendale Country Club in Houma, Louisiana, to end the match.
After seeing a lot of success in the first three matches, Smithers trailed for most of the Championship match. Sitting 1 down through 15 holes, she had a chance to tie the match on the 16th hole but a birdie putt lipped out. She wasn't going to let that happen on the 17th hole, though – a hole she hadn't played since the qualifying stroke play round earlier in the tournament.
"I wasn't sure what the wind was blowing on that hole," Smithers said of the par 3. "She still had the honors and hit it short, so I went with more club than I needed it to.
She'd hit her tee shot to about 15 feet of the pin, then made her birdie putt to tie the match and set up her playoff win.
McKenzie was knocked out of the Championship bracket after a first-round loss, but the rising junior at Loyola won the Consolation Bracket with three-straight wins, including a two-hole playoff win in the semifinals and a 1 up win in the final match. Singletary nor Pitre qualified for the Championship Bracket, but Singletary won all of her matches in the group among those who didn't qualify as well, including beating her collegiate teammate, Pitre.
"It was super cool to have a little Loyola sweep-type moment," Smithers said. "I think my teammates have a ton of grit. Neither one of them ended up where they wanted to be, but they played like it was not the case. They just rolled with the punches. Everybody did such a good job staying focused and determined throughout the tournament. That speaks for the entirety of the team.
"I was super pumped that they could watch me finish, too. It was almost like a comfort thing. Aside from my dad, having them there to be the first to congratulate me was super cool."
While Smithers is the only Wolf Pack women's golfer to win the Louisiana Women's Amateur Championship, she joins the company of Daria Delfino and Madison Bates, both of whom have won other amateur championships. Delfino claimed the Rhode Island Golf Association's Women's Amateur Championship in 2019 and Bates took home the 2022 Louisiana Women's Mid-Amateur Championship – both wins coming after their time at Loyola. That makes Smithers the first active Loyola golfer to win a state amateur championship.
Smithers will next compete in the Mississippi Women's State Amateur Championship July 25-27 at Windance Country Club in Gulfport, Mississippi.
You can keep up with the Pack by following Wolf Pack Athletics on Facebook at Facebook.com/LoyolaWolfPack, Twitter and Instagram @LoyolaWolfPack, and by checking out our website at LoyolaWolfPack.com.
< PREV

East Iberville poised to improve in 2023 with experienced squad

NEXT >

Former Northwestern State head coach Jim Wells named to ABCA Hall of Fame
Camal Petro