Lightning strikes as Chriss, Cajuns beat UAB, 41-21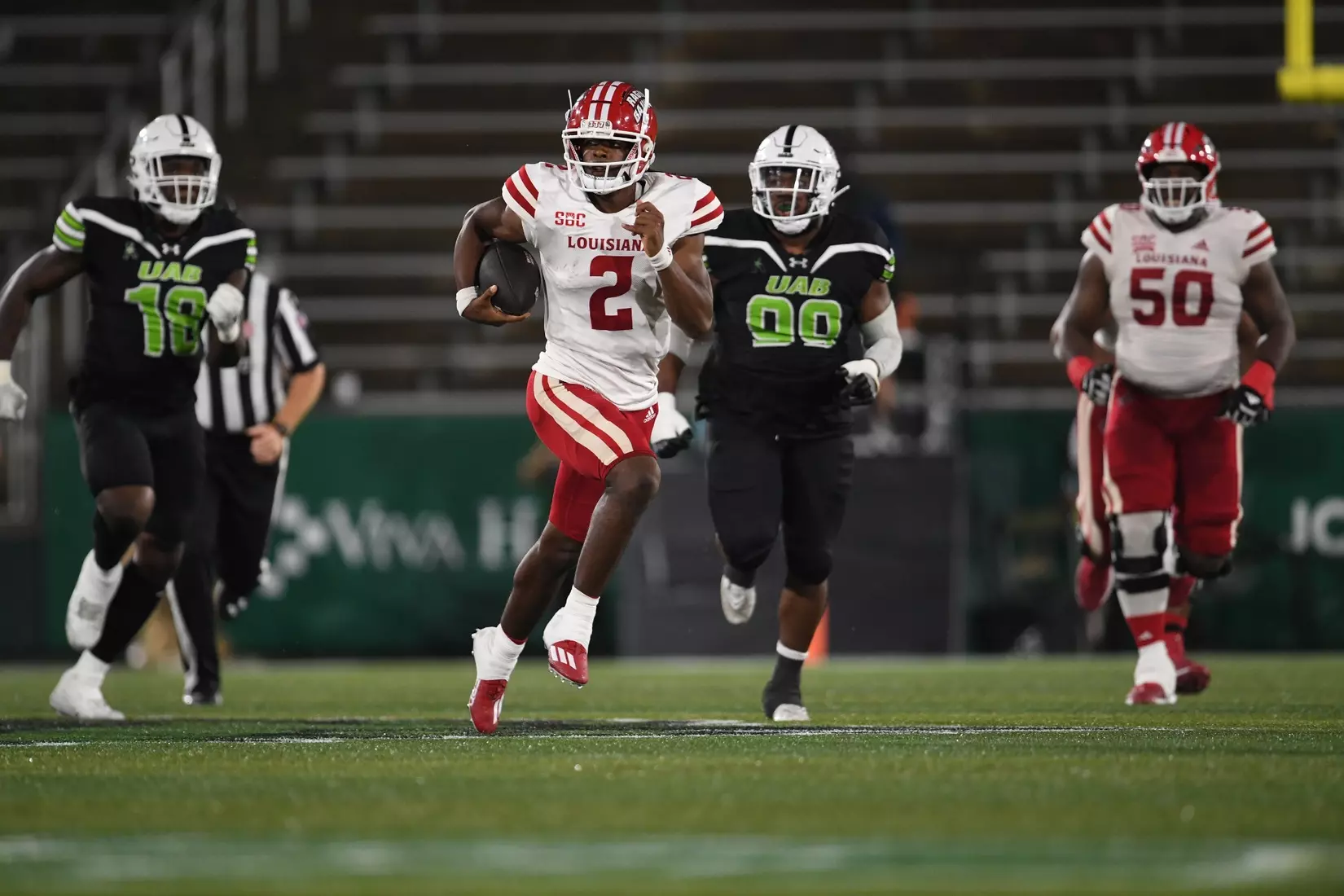 Cajuns hand UAB second of five non-conference losses at home since 2017
BIRMINGHAM, Ala. – Zeon Chriss, replacing injured starter Ben Wooldridge in the first quarter, recorded career highs in both rushing and passing and the Louisiana Ragin' Cajuns used a 24-point second quarter after a nearly 90-minute lightning delay to earn a 41-21 victory over UAB on Saturday at Protective Stadium.
Louisiana (2-1), which will return home to entertain Mid-American Conference member Buffalo next Saturday at Cajun Field, harassed UAB quarterback Jacob Zeno all night as the Ragin' Cajuns defense picked off a pair of passes and recorded seven sacks.
The 20-point margin of victory for the Ragin' Cajuns was their largest in a non-conference road game since a season-opening, 42-14 win at Liberty in 2021. Louisiana claimed its third straight win over American Athletic Conference newcomer UAB (1-2) in the eight-game series and was the Cajuns' second road victory over the Blazers, who entered with a 30-4 home record since 2017.
Chriss, who overcame an 0-for-4 through the air, finished 14-for-20 overall for 174 yards with a touchdown while rushing for 103 yards on six carries – including a back-breaking 80-yard TD run one play after Tyler Guidry's interception in the end zone which helped Louisiana maintain a 7-0 lead.
The redshirt freshman came in after Wooldridge went down with a lower leg injury on the Cajuns' opening drive of the game.
After a scoreless first quarter, the game was halted for 1 hour, 51 minutes after heavy thunderstorms rolled through the Birmingham area.
Once the game resumed, it was all Louisiana.
Jacob Kibodi rushed for a career-high 108 yards – his second 100-yard game of his career and the first since rushing for a then 101 yards against Louisiana in 2017 when he played at Texas A&M. The senior opened the scoring for Louisiana when he scored untouched on a 30-yard run up the middle for a 7-0 lead.
UAB had a chance to tie the game on the following possession, driving into the Louisiana red zone before Guidry hauled in his first career interception.
Chriss added a 6-yard scoring run for Louisiana in the second quarter and Kenneth Almendares closed out the half with a 46-yard field goal for a 24-0 lead at the break.
Terrance Carter caught an 11-yard scoring pass from Chriss in the third quarter before freshman Elijah Davis scored his first career touchdown on a 2-yard run.
Cameron Whitfield recorded 2.5 sacks for Louisiana with Kendre Gant picking up a pair. Tyree Skipper picked off a pass for the Ragin' Cajuns with Guidry, Tyrone Lewis, Jasper Williams and Jordan Lawson each gaining a sack.
Fans are encouraged to stay engaged with the Ragin' Cajuns by downloading the #GeauxCajuns app. Click here for iOS/Apple platforms and here for Android platforms.
Follow the Ragin' Cajuns on Twitter, Facebook, and Instagram (@RaginCajuns) to stay up-to-date on all that is happening with Louisiana Athletics.
< PREV

Louisiana Tech rallies late, falls on late North Texas field goal

NEXT >

Louisiana High School Football Schedule – Week 4 of 2023
Matt Sullivan