Legacy Cemented: Seimone Augustus statue unveiled at LSU
After giving a speech in LSU's practice facility, Seimone Augustus second lined to history.
"In true Louisiana fashion, the Augustus family has a special surprise for Seimone," read public address announcer Dan Borne.
Unbeknownst to Augustus, a brass band appeared and the celebration began, as she danced her way to become the first female athlete in school history to get a statue on campus.
In true Louisiana fashion, Seimone Augustus second lines out to her statue unveiling ceremony. pic.twitter.com/ZPmvPVXJH1

— Harrison Valentine (@HValentineLSU) January 15, 2023
Waiting for her outside was an overwhelming sea of purple and gold. Almost every brick between the LSU Gymnastics facility and the PMAC was covered by Tiger fans eager to support one of their own.
The countdown began, the cover was removed, and her legacy was cemented.
Money Mone got her statue, joining Bob Pettit, Shaquille O'Neal and Pete Maravich in the plaza for eternity. Three legends now joined by another.
"I hope I've made you all proud," said Augustus. "To my Baton Rouge family, my LSU family, my Louisiana family, I love you."
Standing beside her was Kim Mulkey, who just 375 days ago, had nothing but a vision when she walked into the Courtside Club press room, demanding Augustus get a statue one day.
Today, that vision became reality.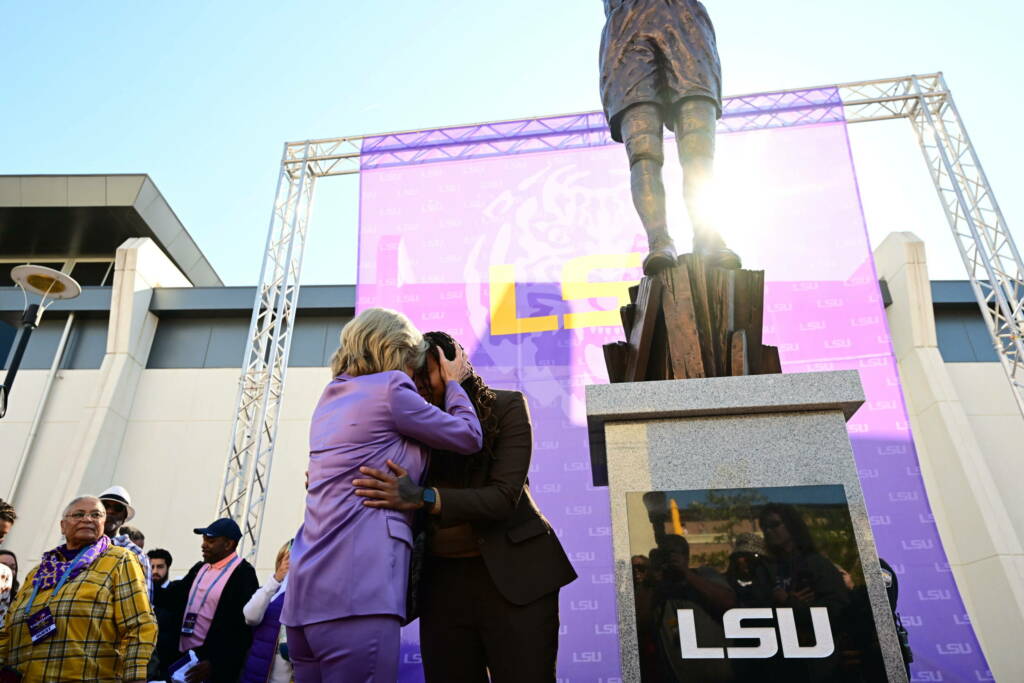 Before the unveiling, Augustus addressed families and alumni, the media and athletic department staff at a reception in the practice facility.
Overlooking her speech was a mural of the late, great Sue Gunter, as she reflected upon the things that made LSU so memorable.
It wasn't the facilities, nutrition centers, or even the victories that Augustus remembers. It's the relationships, the support, the work, and the people that, like the statue revealed today, stand the test of time.
With Seimone at podium on day her statue being unveiled on @lsu campus, can't help but see Coach Gunter in backdrop of this picture appearing to watch Seimone's speech… pretty cool. @LSUwbkb @LSUsports pic.twitter.com/j5AFcEK9m0

— Michael Bonnette (@LSUBonnette) January 15, 2023
But, on this historic day for LSU women's basketball, it's hard to not think about Gunter and her impact on one of the athletic department's most decorated athletes.
In April of 2002, Gunter and assistant coach Bob Starkey – an assistant on Mulkey's current staff – sat in front of the television waiting for the Capitol High superstar to make her college decision.
As the anticipation grew inside their couches lounge, they had no idea where she was headed.
But when Augustus took the podium wearing Tennessee orange, a suspenseful announcement quickly felt anticlimactic.
"I will not repeat what Coach Gunter said," Starkey joked.
It was at that moment that Augustus took the microphone and made her announcement: she was staying home.
From expletives to ecstasy, the orange shirt was exchanged for a purple one. They got their girl, who athletic director Skip Bertman categorized as "the most important recruit in the history of our athletic department." The impact was seismic.
"We knew we didn't just get a great player," Starkey said, "we knew our program was getting ready to change forever."
When people ask Coach Starkey for his favorite Seimone Augustus moments, his response usually surprises people. It wasn't the games, although he remembers those, too. It was the practices. It was her obsession with being great and her understanding of the responsibility that comes with greatness. She didn't just make the players better, Starkey says, she made the coaches better, forcing the staff to elevate the way they were teaching. Simply put, they had never coached anybody like Seimone before.
"She changed the culture of our program by being a great competitor every single day in practice," Starkey said. "People ask for my favorite Seimone moments and it's practice, not games. Practices were amazing and it's because she set the temperature."
Her resume is undeniable, which includes 2,702 collegiate points, a No. 1 overall draft selection, a 15-year professional career, winning four championships, a 2011 WNBA Finals MVP, and three gold medals (2008, 2012, 2016) as a member of the United States Olympic Team.
"So deserving," said Mulkey. "She's a Baton Rouge girl that stayed at home. She's never forgotten where she's come from. I'm happy for her, happy for our program, I'm happy for LSU and I'm happy for Louisiana."
Mulkey remembers recruiting Augustus from her time at Louisiana Tech. She remembers the quiet, soft-spoken person who's talent was loud and clear. But, even as an in-state school, Mulkey knew Baton Rouge was where her heart lied. And when it came to the recruiting process, it was no different: home is where the heart is.
"Baton Rouge was home to her," Mulkey said. "Family was important. I knew it would be tough. Honestly, I never thought we were in it. In my heart of hearts, I could never see her not playing for LSU."
Written on the wall inside the practice facility reads: "respect the past and embrace the future." Sunday at the PMAC embodied that creed as LSU respected its past in a monumental way, while embracing its future with a win over Auburn to move to 18-0 on the season – the best start in program history.
I C O N I C pic.twitter.com/8IcTwSzMl1

— LSU Women's Basketball (@LSUwbkb) January 15, 2023
It was a celebration at the PMAC. But today, Seimone says, was a celebration of everyone.
For LSU.
For women's athletics.
For Baton Rouge.
Today, her legacy was cemented – forever.
< PREV

Runners across the globe go the distance at 2023 Louisiana Marathon and Half Marathon

NEXT >

Recruiting: Texas A&M's Yulkeith Brown to Tulane, DeColdest Crawford to LA Tech, LSU's Damarcus McGhee to Kansas
LSU Athletics