Replay: Holy Cross survives bases-loaded jam late, advances in LHSAA playoffs past Jesuit with 2-1 win
April 27, 2019
By Ken Trahan
Category: Preps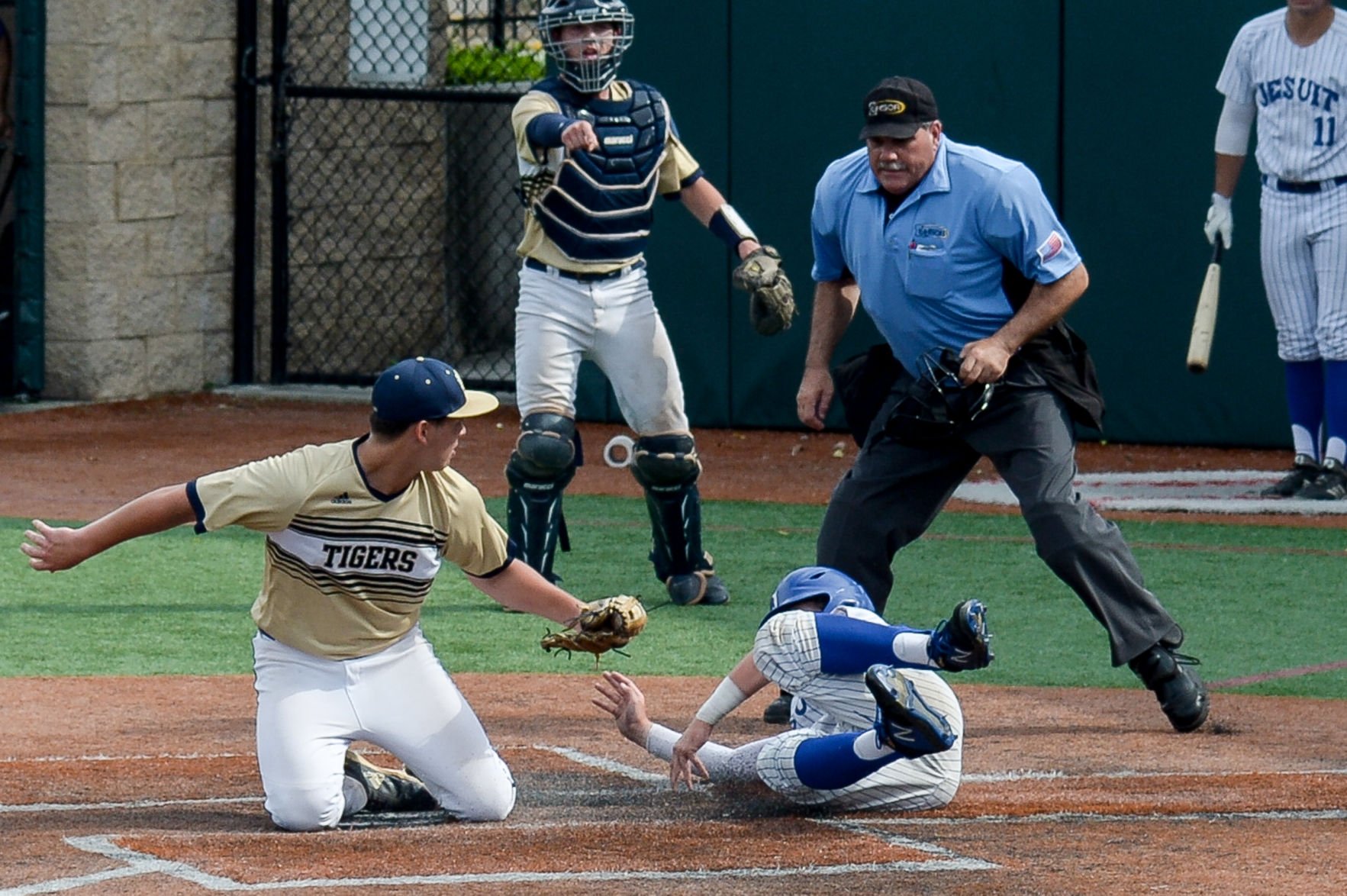 METAIRIE – When you pitch impeccably and defend brilliantly, you are going to be a very hard team to beat.
It was all about pitching and defense for Holy Cross while the pitching for Jesuit was superb as well as the two long-time rivals squared off in the Division I regional round of the LHSAA baseball state playoffs at John Ryan Stadium.
In the end, the pitching and defense of the Tigers was too much for the Blue Jays.
Nico Saltaformaggio pitched six and a third strong innings and Bryan Broussard pitched out of a bases loaded jam in the bottom of the seventh inning as No. 9 Holy Cross edged No 8 Jesuit 2-1 to complete a doubleheader sweep Saturday afternoon as the Tigers won the series two games to one in a game seen live at CrescentCitySports.com.
"Everything was working," Saltaformaggio said. "My team was making every play for me. It was a great feeling have a great defense behind me. I was locating the outside corner fastball and change-ups and we were getting pop-ups all around the field."
Earlier in the day, Holy Cross edged Jesuit 1-0 behind a one-hitter by Chandler Welch.
Holy Cross (16-16) broke on top in the top of the third as Davis Stephens tripled to left and scored on an RBI grounder by Luke St. Amant, who reached on an error and made it 1-0. Gavin Schulz singled and with two outs, Saltaformaggio helped his own cause, singling home courtesy runner Max Laccardi to make it 2-0.
Jesuit made a run in the bottom of the seventh inning. With one out, Joel Guerra singled and Seth Dardar walked. Saltaformaggio was lifted in favor of Broussard. Parker Serio drew a walk to load the bases and Broussard walked Zack Casebonne to score a run and it was 2-1.
With Tripp Haddad at the plate, the count went to 3-2 but Broussard got Haddad to pop out to short to end the threat and the game as he picked up his third save of the season.
Will Moran, who broke his collarbone about a month ago, was cleared to return and he was both courageous and outstanding in a losing cause. Moran allowed just one earned run on five hits.
In the series, Holy Cross pitching allowed just three runs on 11 hits in 21 innings played and the Tigers played errorless baseball with several outstanding plays.
"I've never been a part of a series where everybody threw a complete game," Holy Cross Trey Guillot said. "We finally had to go to the bullpen in the seventh inning. Nico did a great job, he gave us a chance. Broussard's got good stuff. He was all around the plate and it came down to the last pitch. That feels deserving in a series that was this close the whole time.
A young team that has played up and down all season long against a very tough schedule, the Tigers realized their potential Saturday.
Jesuit pitching limited Holy Cross to just four runs on 15 hits but it was just enough for the Tigers. The Blue Jays (23-12) left 10 men on base.
"We just couldn't score," Jesuit coach Kenny Goodlett said. "Both games, Berggren and Moran, two senior pitchers, gave it all they had on the mound. They gave us a real good chance to win. We just didn't produce on the offensive side. We hit the ball right at people at times. Moran put it on the line for us. We gave ourselves a chance in the last inning but came up short.
Holy Cross (16-16) advances to face top seed Catholic High of Baton Rouge in the quarterfinals next weekend.
"We played them in a tournament earlier this season (Catholic won 7-6 at Gonzales on Feb. 23)," Goodlett said. "The big this is for us, it's not about who we're playing, it's about what we do. When we play well, we have a chance against anybody. We've just struggled to find consistency at the plate. Maybe if we can hot at the right time, we can kind of make a little run at this thing."
Final
HC 002 000 0 2 5 0, 7 LOB
JES 000 000 1 1 5 3, 10 LOB
WP—Nico Saltaformaggio (2-4)
LP—Will Moran (3-5)
Time of Game: 1:31
3B—Davis Stephens
BRACKETS:
CLASS 5A CLASS 4A CLASS 3A CLASS 2A CLASS 1A CLASS B CLASS C
DIV I DIV II DIV III DIV IV DIV V
LHSAA Baseball Results/Schedule
Class 5A
Bi-district round
(1) Barbe 5, (32) Chalmette 0
(17) Central 2, (16) Sulphur 0
(9) Live Oak 3, (24) Hahnville 1
(8) Acadiana 4, (25) Alexandria 0
(5) West Monroe 3, (28) East St. John 0
(12) Haughton 3, (21) Comeaux 0
(20) East Ascension 3, (13) Dutchtown 1
(4) Zachary 8, (29) Walker 0
(3) Parkway 10, (30) Natchitoches Central 0, (5 innings)
(14) Airline 2, (19) Captain Shreve 0
(11) Northshore 7, (22) Ponchatoula 1
(6) Ruston 11, (27) New Iberia 1, (6 innings)
(26) St. Amant 6, (7) Lafayette 5
(10) Destrehan 3, (23) Ouachita Parish 2, (11 innings)
(15) Denham Springs 9, (18) Mandeville 1
(2) Sam Houston 13, (31) Southwood 0, (5 innings)
Regional (best of 3)
(1) Barbe 5-1 and 7-2 over (17) Central (Barbe wins 2-0)
(8) Acadiana 8-2 and 1-0 over (9) Live Oak (Acadiana wins 2-0)
(5) West Monroe 5-4 and 6-0 over (12) Haughton 4 (WM wins 2-0)
(4) Zachary 11-3 and 9-2 over (20) East Ascension (ZHS wins 2-0)
(3) Parkway 6-4 and 11-9 over (14) Airline (Parkway wins 2-0)
(6) Ruston 2-1 over (11) Northshore 1, Northshore 7-4 and 9-5 over Ruston (NHS wins 2-0)
(10) Destrehan 6-1 and 1-0 over (26) St. Amant (DHS wins 2-0)
(2) Sam Houston 12-0 and 12-2 over (15) Denham Springs (SH wins 2-0)
Quarterfinals
(8) Acadiana at (1) Barbe, 5:30 p.m. Friday, 1 p.m., 4 p.m. Saturday
(5) West Monroe at (4) Zachary
(3) Parkway at (11) Northshore
(10) Destrehan at (2) Sam Houston
Class 4A
Bi-district round
(1) Tioga 10, (32) Westgate 0 (5 innings)
(16) Rayne 12, (17) North DoSoto 2 (6 innings)
(9) Salmen 3, (24) Belle Chasse 1
(8) Neville 5, (25) Franklin Parish 4
(5) West Ouachita, (28) Bossier 0, (5 innings)
(21) Beau Chene 6, (12) DeRidder 3
(13) Northwood-Shreveport 11, (20) Riverdale 1 (6 innings)
(4) Benton 4, (29) Plaquemine 2
(3) Breaux Bridge 10, (30) Karr 0, (6 innings)
(19) Carencro 15 (14) South Lafourche 5
(22) Franklinton 6, (11) Lutcher 2
(6) Pearl River 10, (27) Warren Easton 1
(26) Leesville 6, (7) Minden 5
(10) South Terrebonne 16, (23) Buckeye 0 (5 innings)
(18) Assumption 9, (15) Cecilia 5
(2) Lakeshore 15, (31) Morgan City 0 (5 innings)
Regional (best of 3)
(1) Tioga 8-2 and 10-0 over (16) Rayne (Tioga wins 2-0)
(8) Neville 4, (9) Salmen 3, Salmen 9-3 and 9-4 over Neville (Salmen wins 2-1)
(5) West Ouachita 10-1 and 11-1 over (21) Beau Chene (WO wins 2-0)
(4) Benton 11-1 and 7-3 over (13) Northwood 1 (Benton wins 2-0)
(3) Breaux Bridge 5, (19) Carencro 0, Carencro 6-3 over BB, BB 11-1 over Carencro (BB wins 2-1)
(6) Pearl River 3-1 and 6-0 over (22) Franklinton (PR wins 2-0)
(10) South Terrebonne 4, (26) Leesville 3, Leesville 5-4, ST 14-3 (ST wins 2-1)
(2) Lakeshore 10-5 and 5-1 over (18) Assumption 5 (Lakeshore wins 2-0)
Quarterfinals
(1) Tioga at (9) Salmen
(4) Benton at (5) West Ouachita
(6) Pearl River at (3) Breaux Bridge
(2) Lakeshore at (10) South Terrebonne
Class 3A
Bi-district round
(1) Sterlington 10, (32) Church Point 0, (6 innings)
(16) West Feliciana 4, (17) Patterson 3
(9) North Webster 12, (24) Caldwell Parish 0, (5 innings)
(8) Jena 3, (25) Donaldsonville 2
(5) Iota 13, (28) Bogalusa 3, (5 innings)
(12) Jennings 9, (21) Union Parish 0
(13) North Vermilion 12, (20) Pine Prairie 8
(4) Berwick 22, (29) Peabody 1, (5 innings)
(3) South Beauregard 6, (30) Crowley 1
(14) Kaplan 6, (19) Westlake 1
(11) Eunice 5, (22) Port Barre 4
(6) Loranger 15, (27) Jewel Sumner 5, (6 innings)
(7) Albany 10, (26) Avoyelles 2
(10) Iowa 6, (23) Mamou 5
(15) Brusly 6, (18) St. James 2
(2) Erath 12, (31) Lake Charles College Prep 2 (5 innings)
Regional (best of 3)
(1) Sterlington 9-1 and 14-1 over (16) West Feliciana 1 (Sterlington wins 2-0)
(8) Jena 10, (9) North Webster 8, NW 1-0 and 4-2 over Jena (NW wins 2-1)
(12) Jennings 9, (5) Iota 8, Iota 8-4 & 11-10 over Jennings (Iota wins 2-1)
(4) Berwick 17, (13) North Vermilion 0 (5 innings), 1 p.m., 4 p.m. Saturday
(3) South Beauregard 3, (14) Kaplan 0, Kaplan 6-5, SB 6-5 (SB wins 2-1)
(6) Loranger 5, (11) Eunice 4, Eunice 19-2 and 2-0 over Loranger (Eunice wins 2-1)
(7) Albany 9 ,(10) Iowa 8, 11 a.m., Iowa 9-3 and 15-7 over Albany (Iowa wins 2-1)
(15) Brusly 9-2 and 3-2 over (2) Erath 2 (Brusly wins 2-0)
Quarterfinals
(8) Jena at (1) Sterlington
(5) Iota at (4) Berwick
(11) Eunice at (3) South Beauregard
(15) Brusly at (10) Iowa
Class 2A
Bi-district round
(1) Winnfield 16, (32) Franklin 0, (5 innings)
(17) Delcambre 5 (16) Fisher 2
(9) Mangham 12, (24) Port Allen 1
(8) Loreauville 16, (25) Northeast 0, (5 innings)
(5) Kinder 17, (28) North Caddo 7, (6 innings)
(21) Delhi Charter 10, (12) Lakeside 7
(13) French Settlement 12, (20) D'Arbonne Woods Charter 2 (6 innings)
(4) DeQuincy 10, (29) Pickering 0, (5 innings)
(3) Welsh 7, (30) Oakdale 3
(14) Springfield 7, (19) Beekman Charter 1
(11) Bunkie 4, (22) Lake Arthur 2
(6) Many 16, (27) Lakeview 2 (5 innings)
(7) Avoyelles Public Charter 8, (26) Vinton 0
(10) Pine 10, (23) South Plaquemines 0, (6 innings)
(18) Rosepine 12 (15) Vidalia 9
(2) Doyle 13, (31) Amite 1, (5 innings)
Regional (best of 3)
(1) Winnfield 14-0 and 11-3 over (17) Delcambre 0 (Winnfield wins 2-0)
(8) Loreauville 12-2 and 17-5 over (9) Mangham 2 (Loreauville wins 2-0)
(21) Delhi Charter 7, (5) Kinder 6, Kinder 14-2 and 13-0 over DC (Kinder wins 2-1)
(4) DeQuincy 10, (13) French Settlement 2, FS 12-3 & 10-4 over DeQuincy (FS wins 2-1)
(3) Welsh 12-3, 11-0 over (14) Springfield (Welsh wins 2-0)
(6) Many 15-9 and 8-4 over (11) Bunkie (Many wins 2-0)
(7) Avoyelles Public Charter 7-6 & 21-0 over (10) Pine (APC wins 2-0)
(18) Rosepine 5, (2) Doyle 2, Doyle 2-1 & 7-4 over Rosepine (Doyle wins 2-1)
Quarterfinals
(8) Loreauville at (1) Winnfield
(13) French Settlement at (5) Kinder
(6) Many at (3) Welsh
(7) Avoyelles Public Charter at (2) Doyle
Class 1A
Bi-district round
(1) Grand Lake (14-13) BYE
(16) Haynesville 12, (17) Gueydan 2, 6 innings
(9) Logansport 7, (24) Sicily Island 0, forfeit
(8) East Iberville 17, (25) Plain Dealing 1 (5 innings)
(5) White Castle BYE
(12) Montgomery 8, (21) Varnado 2
(13) Delta Charter 13, (20) Block 1 (5 innings)
(4) Kentwood BYE
(3) LaSalle BYE
(14) West St. John 10, (19) South Cameron 1
(11) Slaughter Community Charter 22, (22) Arcadia 1 (5 innings)
(6) Oberlin BYE
(7) Jonesboro Hodge 18, (26) Lincoln Prep 0 (5 innings)
(10) Merryville 19, (23) Northwood Lena 2 (5 innings)
(15) Centerville 10, (18) KIPP-B.T. Washington 0 (5 innings)
(2) Oak Grove BYE
Regional
(16) Haynesville at (1) Grand Lake, 5 p.m. Monday
(9) Logansport at (8) East Iberville, TBA
(12) Montgomery at (5) White Castle, 4 p.m. Monday
(13) Delta Charter at (4) Kentwood, 4 p.m. Monday
(14) West St. John at (3) LaSalle, 5 p.m. Monday
(11) Slaughter Community Charter at (6) Oberlin, 3:30 p.m. Monday at Mike Carrier Complex
(10) Merryville at (7) Jonesboro-Hodge, 6 p.m. Friday
(15) Centerville at (2) Oak Grove, 4 p.m. Monday
Class B
Bi-district round
(1) Pitkin BYE
(16) Choudrant 9, (17) Holden 4
(9) Maurepas 7, (24) Fairview 1
(8) Doyline 14, (25) Negreet 3
(5) Glenmora BYE
(12) Bell City 10, (21) Monterey 2
(13) Oak Hill 12, (20) Mt. Hermon 0, (5 innings)
(4) Anacoco BYE
(3) Converse BYE
(14) Castor 13, (19) Simsboro 9
(22) Hornbeck 4, (11) Zwolle 1
(6) Elizabeth BYE
(7) Hicks 19, (26) Kenner Discovery 0 (5 innings)
(10) Florien 11, (23) Lacassine 1 (5 innings)
(15) Weston 4, (18) Stanley 1
(2) Quitman BYE
Regional
(1) Pitkin 10, (16) Choudrant 0
(9) Maurepas 7, (8) Doyline 2
(5) Glenmora 10, (12) Bell City 0 (6 innings)
(13) Oak Hill at (4) Anacoco, 6 p.m. Monday
(14) Castor at (3) Converse 7, (14) Castor 0
(22) Hornbeck at (6) Elizabeth 15, (22) Hornbeck 6
(7) Hicks 13, (10) Florien 3 (5 Innings)
(2) Quitman 5, (15) Weston 0
Quarterfinals
(1) Pitkin at (9) Maurepas
(5) Glenmora vs. TBA
(6) Elizabeth at (3) Converse
(7) Hicks at (2) Quitman
Class C
Bi-district round
(1) Summerfield BYE
(17) Ebarb 15, (16) Plainview 3
(9) Saline BYE
(5) Reeves BYE
(12) Hackberry BYE
(13) Kilbourne BYE
(4) Pleasant Hill BYE
(3) Harrisonburg BYE
(14) Evans 15, (19) Grand Isle 9
(11) Downsville BYE
(6) Georgetown BYE
(7) Calvin BYE
(10) Starks BYE
(15) Dodson 7, (18) Johnson Bayou 0, forfeit
(2) Simpson BYE
Regional
(17) Ebarb at (1) Summerfield, 5 p.m. Monday
(8) Singer 7, (9) Saline 2
(12) Hackberry at (5) Reeves, 5 p.m. Wednesday
(13) Kilbourne at (4) Pleasant Hill, 4 p.m. Monday
(3) Harrisonburg 10, (14) Evans 0 (5 innings)
(6) Georgetown 6, (11) Downsville 0
(10) Starks at (7) Calvin, 4 p.m. Monday
(2) Simpson 21, (15) Dodson 3 (5 innings)
Division I
Regionals (best of 3)
(1) Catholic BYE
(8) Jesuit 2, (9) Holy Cross 1, HC 1-0 and 2-1 over Jesuit (HC wins 2-1)
(5) Byrd 11-1 and 18-1 over (12) Scotlandville 1 (Byrd wins 2-0)
(4) Archbishop Rummel BYE
(3) St. Paul's BYE
(6) Evangel Christian 7-2 and 11-4 over (11) Archbishop Shaw 2 (ECA wins 2-0)
(7) John Curtis Christian 5-3 and 8-5 over (10) St. Augustine (JC wins 2-0)
(2) Brother Martin BYE
Quarterfinals
(9) Holy Cross at (1) Catholic (BR)
(5) Byrd at (4) Archbishop Rummel
(6) Evangel Christian at (3) St. Paul's
(7) John Curtis Christian at (2) Brother Martin
Division II
Regionals (best of 3)
(1) University 25-2 (5 innings) and 11-0 (5 innings) over (16) Haynes Academy (U-High wins 2-0)
(8) De La Salle 9, (9) Vandebilt Catholic 4, Vandebilt Catholic 7-6 & 11-6 over DLS (VC wins 2-1)
(5) Parkview Baptist 11-0 (5 innings) & 14-8 over (12) Archbishop Hannan 0 (PB advances 2-0)
(4) Loyola Prep 11-1 & 10-0 over (13) Lusher Charter in 6 innings each (LP advances 2-0)
(3) Teurlings Catholic 18-1 and 12-1 over (14) Thomas Jefferson (TC wins 2-0)
(6) St. Charles Catholic 7-4 and 9-2 over (11) St. Michael (SCC wins 2-0)
(7) E.D. White Catholic 8-3 and 11-7 over (10) St. Louis Catholic 3 (EDW wins 2-0)
(2) St. Thomas More 11-0 and 27-0 over (15) David Thibodaux (STM wins 2-0)
Quarterfinals
(1) University High at (9) Vandebilt Catholic
(5) Parkview Baptist at (4) Loyola Prep, 5 p.m. Friday, 1 p.m. and 3 p.m. Saturday
(6) St. Charles Catholic at (3) Teurlings Catholic
(7) E.D. White Catholic at (2) St. Thomas More
Division III
Regionals (best of 3)
(1) Dunham BYE
(8) Catholic-NI 2, (9) Northlake Christian 1, NC 3-2 over CNI, CNI 12-2 over NC (CNI wins 2-1)
(5) Notre Dame 4-0 and 10-3 over (12) Country Day (ND wins 2-0)
(4) Calvary Baptist 14-0 and 9-0 over (13) Pope John Paul II (CB advances 2-0)
(3) Ascension Episcopal 15-0 and 16-1 over (14) Patrick Taylor 0 (AE wins 2-0)
(6) Holy Savior Menard 5-0 and 6-0 over (11) Riverside Academy (HSM wins 2-0)
(10) Newman 6-2 and 5-4 over (7) Episcopal (newman wins 2-0)
(2) St. Thomas Aquinas BYE
Quarterfinals
(8) Catholic-NI at (1) Dunham
(5) Notre Dame at (4) Calvary Baptist, 6 p.m. Friday, 11 a.m., 1:30 p.m. Saturday
(6) Holy Savior Menard at (3) Ascension Episcopal
(10) Newman at (2) St. Thomas Aquinas
Division IV
Regionals (best of 3)
(1) Ouachita Christian 9-0 and 19-4 over (16) St. Martin's Episcopal (OC wins 2-0)
(8) Sacred Heart-VP 7-4 and 13-1 over (9) St. Edmund (SH wins 2-0)
(12) Catholic-PC 8, (5) Central Catholic, CC 5-1 and 9-8 over CPC (CC wins 2-1)
(4) St. John 2, (13) Vermilion Catholic 1, VC 7-6, SJ 8-6 (SJ wins 2-1)
(14) Ascension Christian 7-4 and 8-6 over (3) Covenant Christian (AC wins 2-0)
(6) Opelousas Catholic 4-1 and 14-1 over (11) Westminster Christian (OC wins 2-0)
(7) Cedar Creek 12-8 and 4-0 over (10) St. Mary's (CC wins 2-0)
(2) Ascension Catholic 8-6 & 18-3 (5 innings) over (15) Lafayette Christian 3 (AC advances 2-0)
Quarterfinals
(8) Sacred Heart-VP at (1) Ouachita Christian, 5 p.m. Friday, 1 p.m., 4 p.m. Saturday
(5) Central Catholic at (4) St. John
(6) Opelousas Catholic at (14) Ascension Christian
(7) Cedar Creek at (2) Ascension Catholic, 6 p.m. Thursday, 4 p.m., 7 p.m. Friday
Division V
Quarterfinals
(8) St. Joseph's-Plaucheville at (1) Claiborne Christian, 4 p.m. Thurs., May 2
(5) Runnels at (4) Grace Christian, 5:30 p.m. Fri., May 3 at England Air Park
(6) Family Christian at (3) Family Community, 5 p.m. Monday at Warrior Park
(7) Episcopal of Acadiana at (2) Northside Christian, 5 p.m. Tuesday Apr. 30 at Miller Stadium
< PREV

Surprisingly undrafted, Demons' Jazz Ferguson reaches free agent deal with Seattle

NEXT >

Prograis knocks out Relikh to reach WBSS finals
Ken Trahan
CEO/Owner
Born and raised in the New Orleans area, CCSE CEO Ken Trahan has been a sports media fixture in the community for nearly four decades. Ken started NewOrleans.com/Sports with Bill Hammack and Don Jones in 2008. In 2011, the site became SportsNOLA.com. On August 1, 2017, Ken helped launch CrescentCitySports.com. Having accumulated national awards/recognition (National Sports Media Association, National Football…