Girls Soccer Finals: St. Thomas More downs Lakeshore girls, 2-0, to win Division II girls state championship
February 22, 2019
By Randy Pistorius
Category: Preps
Thursday had the chance to be a magical day for Lakeshore High School at the University Of Louisiana at Lafayette Soccer/Track Complex in the Division II Finals.
Instead, we will remember the Titans as finalists but not titleist.
Starting things off on the second day of the 2019 LHSAA State Soccer Championships was the girls final between the top seeded St. Thomas More Lady Cougars and No. 2 Lakeshore Lady Titans in a rematch of the 2017 title game won by Lakeshore. The home area team did not dissappoint, taking a 2-0 victory to defend their Division II Crown.
Just two minutes into the match, STM's Avery Quoyeser scored a stunning goal from 30 yards out past Lakeshore keeper Shanna Baudier to give the Lady Cougars a 1-0 lead.
From that point, defense ruled until the 63rd minute Regan Latiolais found the goal to increase the Lady Cougars' lead to 2-0.
"My underclassmen had both goals and that was a great accomplishment," said STM head coach Daniel Underwood.
Despite decent chances, especially early in the contest when the Lady Titans could have even the score, Lakeshore suffered deja vu instead in falling by the same score as the November 17th regular season encounter between the two elite programs.
For St. Thomas More, it was a humbling victory to follow up last year's state title.
"It is incredible to win back to back state championships and I'm happy and proud of my team and their hard work and effort paid off," STM Head Coach Daniel Underwood said. "The 1st goal we scored we had worked on that play for 3-4 weeks and it paid off." " We allowed no goals in the playoffs and defense wins state championships."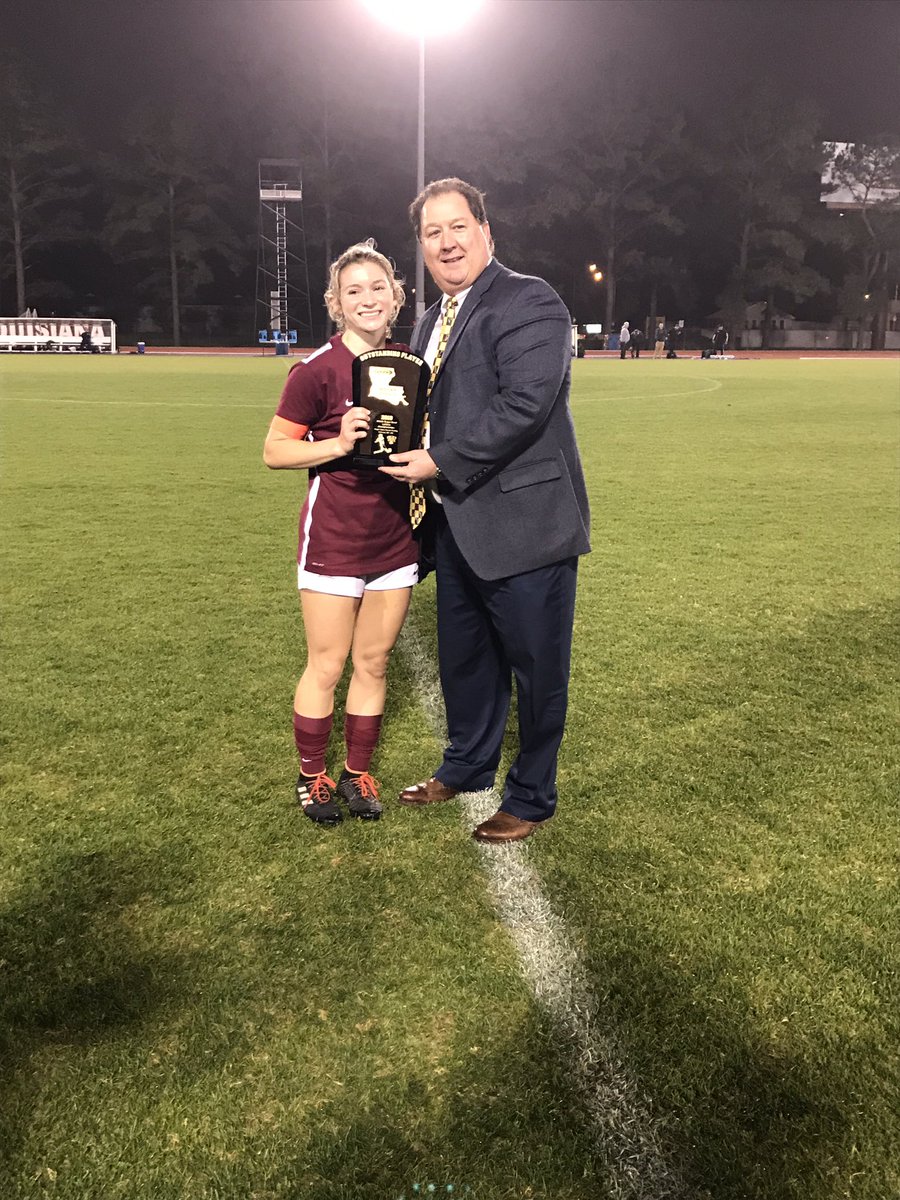 LSU commitment Maddie Moreau was chosen as the match's outstanding player.
"It's a dream to win back-to-back state titles and every year is a different year," said the junior Moreau. "I have so much respect for Lakeshore. They are a good team and building history."
In the nightcap, Holy Cross downed Lakeshore in a thrilling shootout to win the Division II boys soccer crown.
LHSAA Girls Soccer Final Results/Schedule
Division III
(2) Teurlings Catholic 3, (1) Vandebilt Catholic 0
Division II
(1) St. Thomas More 2, (2) Lakeshore 0
Division IV
(1) Loyola Prep (24-4-4) vs. (2) Episcopal of Acadiana (16-2-1), 5 pm Fri.
Division I
(8) Northshore (18-4-2) vs. (2) St. Scholastica (22-0-3), 7:30 pm Fri.
LHSAA Boys Soccer Final Results/Schedule
Division III
(2) University High 5, (4) Loyola Prep 4
Division II
(1) Holy Cross 1, (3) Lakeshore 1 (HC wins 3-1 on penalty kicks)
Division IV
(2) Newman (15-4-4) vs. (3) Northlake Christian (14-4-2), 4:30 pm Sat.
Division I
(2) Jesuit (26-0-7) vs. (1) St. Paul's (27-1-5), 7:30 pm Sat.
< PREV

LSU faces late-season litmus test in battle for first in SEC versus Tennessee

NEXT >

Boys Soccer Finals: Holy Cross edges Lakeshore in penalty kick drama to repeat in Division II
Randy Pistorius
Reporter
Randy Pistorius is a lifelong resident of South Louisiana and is currently working in the communications field in the Baton Rouge Metropolitian Area. Randy's start in journalism came while still in high school at De La Salle in New Orleans and that carried with him to Southeastern Louisiana University where he wrote for the Lions Roar and also worked in…