Division IV finalist Ascension Catholic Bulldogs return nucleus in 2018
July 30, 2018
By Troy LeBoeuf
Category: Preps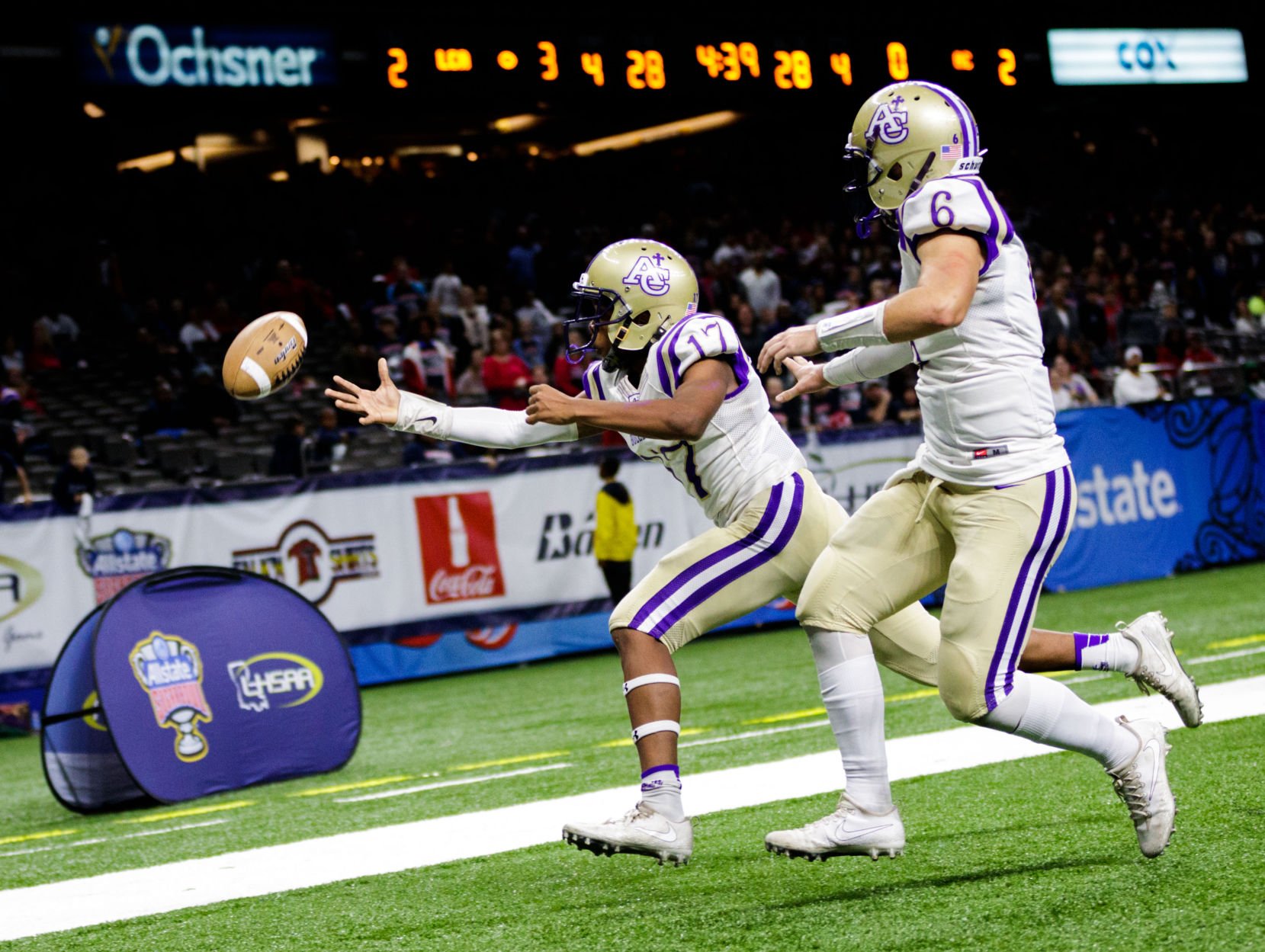 The Ascension Catholic Bulldogs lost the Division IV state championship game on December 7 of last year, falling 10-0 to Lafayette Christian.
After a terrific season with a bad ending, the Bulldogs are motivated to repeat the success and perhaps go one step further in 2019.
"We were certainly disappointed in the outcome of the state championship game, give credit to LCA, they beat us" said Coach Drey Trosclair. "Our focus and preparation since January has been really good, it helps to have 16 seniors and most of our starters returning."
The Bulldogs went 11-3 last season losing to Southern Lab, Kentwood (runner up in 1A) and in the state championship game.
The reason for optimism is simple. Ascension Catholic is good and the Bulldogs are very experienced, with 10 starters back on offense, nine on defense and its kicker and punter.
Returning to lead the offense are a pair of two 1,600 yard rushers in junior Jai Williams (5-9. 176) and senior Jamar Barber (5-8, 165).
"Those two backs are explosive and compliment each other very well and they are hungry," Trosclair said.
Junior Dorian Barber got some significant carries last year and will play a role in the backfield .
The quarterback position will be filled by senior John Mire (5-10, 195), who gained some significant experience after starter Bubba Gautreau was injured against Kentwood in week eight a year ago.
"John has worked hard in the offseason, he has to step up and be a leader for us, he is very capable" Trosclair said.
The offensive line lost two starters in Charlie Gianelloni (all-state in 2017) and three-year starter Robert Lemann.
However, both tackles return in junior Nick Hillard (6-3 290) and Senior Dillion Davis (6-2 270).
"Nick and Dillion have several offers to play college football, they are our strongest guys and can move very well," Trosclair said. Center Jacob Matirne (6'2 260) returns and the two guard spots will be manned by senior Alex Gros and junior Sam Mire.
"Alex and Sam must step up, Jacob has been solid, we also have senior Ethan Arceneaux who will push for playing time up front" Trosclair said.
The wide receiver position is in good "hands" with everyone returning.
"We have Tre Medine (6-2, 180 Sr.), Eric Simon (5-10, 165 Jr.), Mason Zeringue (5-9, 165 Sr.), Alex Hebert and Rodney Blanchard (5-9, 165 Sr.) returning, lots of experience in that group," Trosclair said. Newcomers include senior Jamil Truxillo, junior Demontray Harry and freshmen J'Mond Tapp (6'2 225).
The defense was strong last season and returns nine starters led by defensive end Davis (14 sacks) linebacker Parker Hales, strong safety Jamar Barber and senior defensive lineman John Broussard (5-8, 170) who had 10 sacks last season. Hilliard will slide in at nose guard which will allow Broussard to move to defensive end.
"We lost Gianelloni, an all-state player at end but with Davis and Broussard returning along with Hilliard, we really like that trio," Trosclair said.
Providing depth up front will be Matirne at nose guard, along with defensive ends Gros, Tapp and Alex Cedatol.
The linebacker crew lost its vocal leader in Gautreau (Louisiana College), but senior Andrew Landry (5-9, 175) looks poised to take over.
"Our linebackers are so important in our defense," Trosclair said. "Hales had 100 plus tackles, Jai Williams was all-state and Andrew played significant time there. Dorian Barber will be the main back-up at linebacker and can really run."
The secondary is filled with veterans, led by safeties Jamar Barber and Zeringue.
"Those two guys set the edge for us, both are physical and can cover," Trosclair said.
Medine was part of rotation at safety and will again be a big part of the defense.
"Tre can play both spots, weak and strong, he has grown as well" Trosclair said.
Junior Brock Acosta returns at free safety along with corners Simon and Blanchard.
"Those guys know our defense and all the calls , can really do several things with the experience back there," Trosclair said.
Providing depth will be Harry, Truxillo, sophomore Jacob Dunn and sophomore Gage Breaux.
The kicking game should be good with senior Rodney Blanchard (5-9, 165) returning off of an all-district season a year ago.
"Rodney has improved so much plus he has gone to some kicking camps, he is being looked at as a punter by college recruiters," Trosclair said.
Sophomore Matt Lafleur will back up Blanchard.
The Bulldogs will once again play in a district with powerful Southern Lab and Kentwood.
"Our guys love competing with everyone on our schedule, they won't back down " Trosclair said.
While losing in the title game is a motivating factor, it is not ruling the Bulldogs this season.
"It certainly was discussed but our guys work hard no matter what, they are fun to coach and they will maximize their abilities," Trosclair said.
With a very strong nucleus returning in 2018, the Bulldogs should be in the state championship discussion again.
"We were 3-7 in my first season, only three short years ago, but the players set goals to win a state championship, there are really good teams in our division, we can only control what we do," Trosclair said. "Time to strap it up."
---
Click here for more Crescent City Sports high school football team previews.
< PREV

Recruiting: Destrehan's John Emery, U-High's Makiya Tongue commit to Georgia

NEXT >

Former Tulane sprinter Jasmine Blocker making herself known with Team USA
Troy LeBoeuf