Ragin' Cajuns golfer Jake Marler claims 104th annual Louisiana State Amateur Championship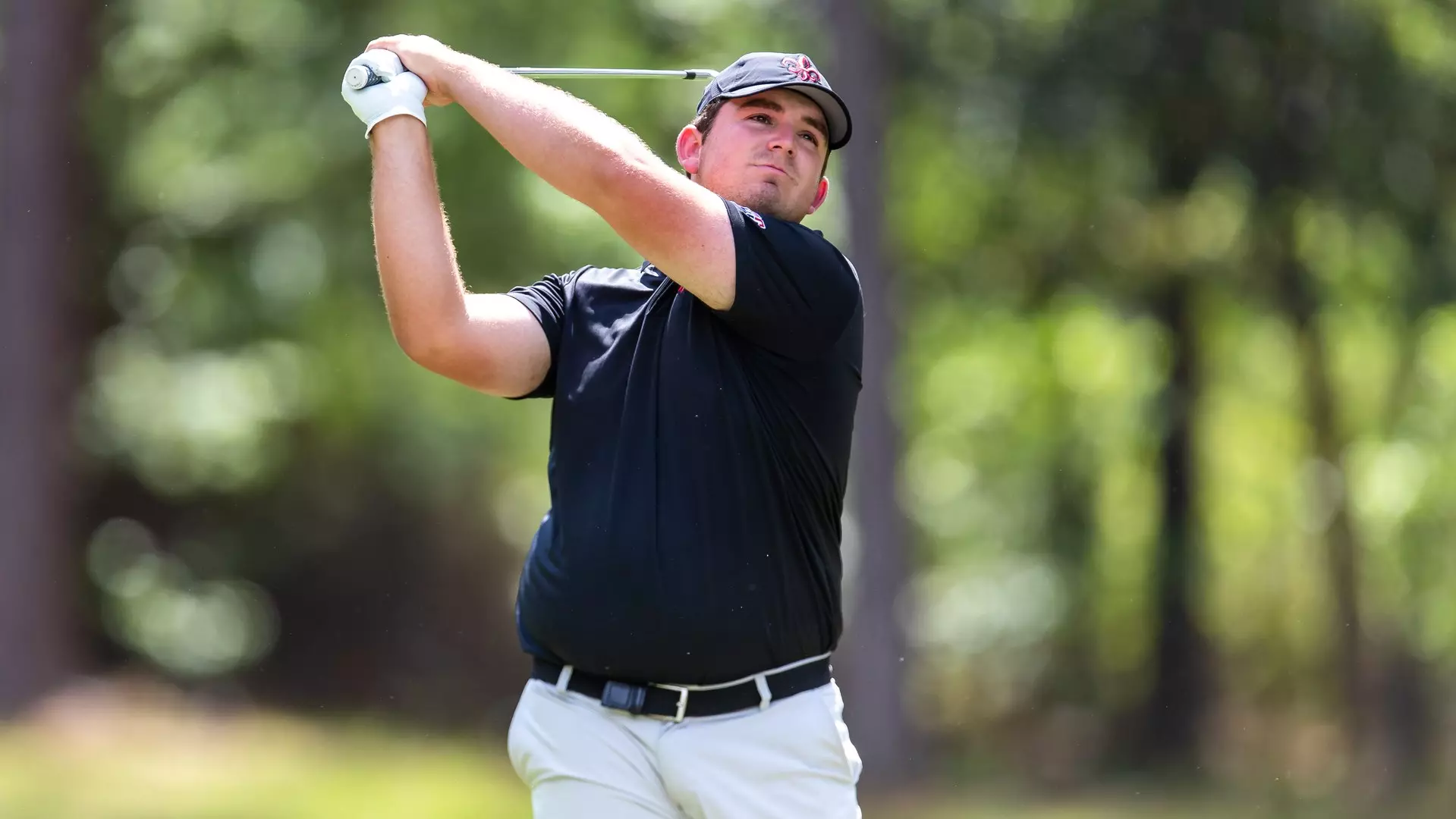 Shreveport native posts 9-under-279 to claim state's top amateur golf tournament
SHREVEPORT – Louisiana Ragin' Cajuns junior Jake Marler concluded a stellar week on the golf course when he posted a 1-under-par 71 to claim the 104th Annual Louisiana State Amateur Golf Championship on Sunday at Southern Trace Country Club.
The Shreveport native and C.E. Byrd alum won the event by maintaining his three-stroke advantage after a 3-under-par 69 on Saturday and finished at 9-under-par 279 overall to outpace a 144-member field.
Marler opened the week on Thursday with a 1-under-71 before shooting a 4-under 68 on Friday and a 3-under 69 on Saturday. Marler made the turn at even-par 36 in Sunday's final round before posting a birdie at No. 10 and 15. The southpaw claimed the title with a tap-in on the par-5, No. 18.
Marler, who helped Louisiana claim the 2023 Sun Belt Conference title and earn a berth to the NCAA Championships, was one of three Ragin' Cajuns to post top-20 finishes in the event with Matt Weber finishing in a tie for 10th place at 289 while Burke Alford was four strokes back in 18th place.
EDITOR'S NOTES
— Tied for second place was Jay Mendell, an LSU signee set to join the Tigers in the fall. Mendell and Louisiana Tech's Hunter Battles finished three shots back at 6-under.
— Kyle Bennett, the Zachary High alum now on the UNO men's golf squad, finished fourth.
— Grayson Glorioso, a product of Jesuit entering his senior year with the Southeastern Louisiana golf team, tied for fifth.
Pos.
Total
Score
R1
R2
R3
R4
Total
1
Jake Marler
-9
71
68
69
71
279
Shreveport
T2
Hunter Battles
-6
69
71
71
71
282
Ruston
T2
Jay Mendell
-6
70
70
72
70
282
Lafayette
4
Kyle Bennett
-5
76
68
74
65
283
Zachary
T5
Grayson Glorioso
-2
68
77
71
70
286
Metairie
T5
John Humphries
-2
71
70
72
73
286
Woodworth
T7
Will Patrick
-1
69
74
73
71
287
Ruston
T7
Greg Berthelot
-1
71
70
73
73
287
Baton Rouge
9
Josh Fullilove
E
70
78
70
70
288
Larose
T10
Matt Weber
1
71
71
75
72
289
Scott
T10
Joshua Achord
1
73
72
71
73
289
Abita Springs
T10
Grayson Gilbert
1
73
71
72
73
289
Monroe
13
Jarrod Johnson
2
70
78
72
70
290
Ponchatoula
T14
Carter Schmitt
3
71
74
75
71
291
Baton Rouge
T14
Charlie Bell
3
71
71
73
76
291
Shreveport
T16
Walter Anderson
4
68
75
75
74
292
Baton Rouge
T16
Griffin Dorr
4
70
72
75
75
292
Mandeville
18
Burke Alford
5
72
76
74
71
293
Shreveport
19
Jace Lejeune
6
72
74
71
77
294
Jennings
T20
August Drummond
8
74
73
78
71
296
Shreveport
T20
Jason Humphries
8
71
71
76
78
296
St Amant
T20
Ryan Fulton
8
74
69
73
80
296
Crowley
23
Robby McWilliams
9
79
71
74
73
297
Benton
T24
Matt Nicholas
10
71
74
78
75
298
Lake Charles
T24
Eddie Lyons
10
73
76
75
74
298
Shreveport
T26
Chance Snell
11
70
74
82
73
299
Shreveport
T26
Craig Barnes
11
73
74
77
75
299
Benton
T26
Eric Lavespere
11
77
73
75
74
299
Monroe
T26
George Trappey
11
73
72
76
78
299
Lake Charles
T30
Eddie Seabaugh
12
77
70
75
78
300
Bossier City
T30
Grant Reagan
12
72
77
74
77
300
Shreveport
T32
Erik Hsu
13
75
77
75
74
301
Monroe
T32
Michael Ferrer
13
78
75
74
74
301
Covington
T32
Landen East
13
75
78
72
76
301
Sulphur
T32
Xan Walker
13
75
74
74
78
301
Shreveport
36
Connor Cassano
14
73
79
76
74
302
Shreveport
T37
Patrick Blaum
15
73
75
81
74
303
Covington
T37
Patrick Blunt
15
77
75
76
75
303
Shreveport
T37
Peyton Johnson
15
75
78
74
76
303
Shreveport
T37
Peyton Canter
15
74
74
79
76
303
St. Amant
T37
Niel Phillips
15
75
71
73
84
303
New Orleans
T42
Riley Hnatyshyn
16
73
75
84
72
304
Abita Springs
T42
Nick Wall
16
79
74
74
77
304
Baton Rouge
T44
Billy Guilbeaux
17
77
73
76
79
305
Lafayette
T44
Noah McWilliams
17
72
69
80
84
305
Benton
T46
Ken Buchan
18
77
75
79
75
306
Monroe
T46
Bryan Crowder
18
77
74
77
78
306
West Monroe
T46
Payne Johnson
18
74
72
82
78
306
Shreveport
T49
Colby Dupuis
20
75
78
81
74
308
Ville Platte
T49
Will Porter
20
74
79
76
79
308
Monroe
T49
Nolan Timon
20
78
74
74
82
308
Ruston
T52
Dwayne Heron
21
78
75
82
74
309
Gretna
T52
Ross Alford
21
77
75
77
80
309
Bossier City
54
Gage Burnham
22
77
73
79
81
310
Haynesville
55
Austin Acree
23
74
77
82
78
311
West Monroe
56
Zachary Robertson
24
78
75
80
79
312
Lake Charles
T57
JT Stephens
25
76
77
77
83
313
Ruston
T57
Britton Khalaf
25
75
77
79
82
313
Metairie
T57
Eric Regard
25
70
74
83
86
313
Shreveport
60
Samuel Keeton
26
76
76
79
83
314
Alexandria
61
Ross Anderson
32
76
77
77
90
320
Lake Charles
The following players did not make the cut.
CUT
Ryan King
10
76
78
154
Bossier City
CUT
Jaime Suarez Morales
10
76
78
154
Thibodaux
CUT
Wiggins Edrington
10
78
76
154
New Orleans
CUT
Wade House
10
80
74
154
Monroe
CUT
Blake Martinez
10
76
78
154
New Orleans
CUT
Sean Brown
11
77
78
155
Destrehan
CUT
Kyle Buffolino
11
80
75
155
Ruston
CUT
Adam Trahan
11
79
76
155
Crowley
CUT
Holden Webb
11
79
76
155
Shreveport
CUT
James Holtsclaw
11
80
75
155
Shreveport
CUT
Darian Faust
11
75
80
155
Youngsville
CUT
Harry West
11
81
74
155
Chataignier
CUT
Gray Kingrea
11
74
81
155
West Monroe
CUT
Bob Cooper
11
73
82
155
Monroe
CUT
Kyle Williams
12
79
77
156
Choudrant
CUT
Harrison Rhymes
12
78
78
156
Monroe
CUT
Carson Crossno
12
77
79
156
Shreveport
CUT
Michael Karlberg
12
76
80
156
New Orleans
CUT
David Marsh
12
73
83
156
Baton Rouge
CUT
Andrew Bateman
12
79
77
156
Baton Rouge
CUT
Dax Reaux
13
76
81
157
Breaux Bridge
CUT
Cody Vaughn
13
84
73
157
Baton Rouge
CUT
Mason Comeaux
13
76
81
157
Port Allen
CUT
John Mast
13
75
82
157
Shreveport
CUT
Ashton Cruse
13
76
81
157
Columbia
CUT
Christopher Baker
13
77
80
157
Shreveport
CUT
Phillip Frazier
13
75
82
157
Baton Rouge
CUT
Shep Smith
14
80
78
158
Shreveport
CUT
Garrett Trahan
14
78
80
158
Sulphur
CUT
Ben Blanco
14
81
77
158
Broussard
CUT
Logan Heltz
15
75
84
159
Abita Springs
CUT
Todd Killen
15
83
76
159
Shreveport
CUT
Billy Joe Tolliver
15
79
80
159
Saint Gabriel
CUT
Eli Walker
15
80
79
159
Quittman
CUT
Tommy Dupee
15
74
85
159
Bossier City
CUT
Chad Catalano
16
77
83
160
Mandeville
CUT
Denny Guilbeaux
16
83
77
160
Lafayette
CUT
Devan Martin
16
82
78
160
Gonzales
CUT
Christian McCleon
16
81
79
160
Oberlin
CUT
Taylor Boasberg
16
81
79
160
New Orleans
CUT
John Talley
17
79
82
161
St. Martinville
CUT
Miles Dixon
17
79
82
161
New Orleans
CUT
Michael Fulco
17
80
81
161
Shreveport
CUT
Mark Bienvenu
17
79
82
161
Baton Rouge
CUT
Landon Beier
17
80
81
161
Lake Charles
CUT
Alston Manne
18
80
82
162
Baton Rouge
CUT
Hal Wright
18
85
77
162
Shreveport
CUT
Jared Dunahoe
18
79
83
162
Natchitoches
CUT
Trey Toups
19
85
78
163
Denham Springs
CUT
Nyles Williams
19
83
80
163
Baton Rouge
CUT
Ethan Moser
20
81
83
164
Metairie
CUT
Maxwell McDonald
20
82
82
164
Shreveport
CUT
Robbie Trahan
20
82
82
164
Crowley
CUT
Cody Simons
20
84
80
164
Baton Rouge
CUT
Gioire Manguno
20
78
86
164
Plaquemine
CUT
Kason Shaw
20
83
81
164
Madisonville
CUT
Brian Ledet
21
83
82
165
Mandeville
CUT
Jordan McCart
21
81
84
165
Shreveport
CUT
Blake Francis
21
80
85
165
Rayne
CUT
Hudson Partin
22
83
83
166
Denham Springs
CUT
Jeffrey Fooshee
22
78
88
166
Lafayette
CUT
Walt Sartor
22
84
82
166
Monroe
CUT
Scott Ortego
23
80
87
167
Iowa
CUT
Tim Melancon
23
85
82
167
Baton Rouge
CUT
Ryan Martinez
25
93
76
169
New Orleans
CUT
Connor Welsh
27
88
83
171
Lake Charles
CUT
Grant Fisher
27
87
84
171
Baton Rouge
CUT
Jacob Kraft
28
86
86
172
Baton Rouge
CUT
Bobby Butler
28
88
84
172
Gonzales
CUT
Buck Williams
31
84
91
175
New Orleans
CUT
Travis Cowley
31
90
85
175
Shreveport
CUT
Ryan Borsch
31
84
91
175
Belle Chasse
CUT
Jeremy Talbot
32
85
91
176
Lafayette
CUT
Chet Boudreaux
33
88
89
177
Gonzales
CUT
Stephen Bell
37
89
92
181
Shreveport
CUT
Cody Sanchez
37
90
91
181
Walker
CUT
Henry Ellerbee
38
95
87
182
Tallulah
CUT
Cole Jones
48
93
99
192
Baton Rouge
WD
Preston Smith
–
80
WD
WD
Shreveport
WD
Ayden Fontenot
–
84
WD
WD
Opelousas
WD
Clark Hershey
–
91
WD
WD
Madisonville
WD
John Tommasini
–
WD
WD
Lafayette
WD
Chris Donaldson
–
WD
WD
New Orleans
< PREV

Slidell looks to repeat as district champions, go further in 2023

NEXT >

Former McNeese runner breaks world record while raising money for kids
Matt Sullivan