Big 7th inning gives Ole Miss series win over LSU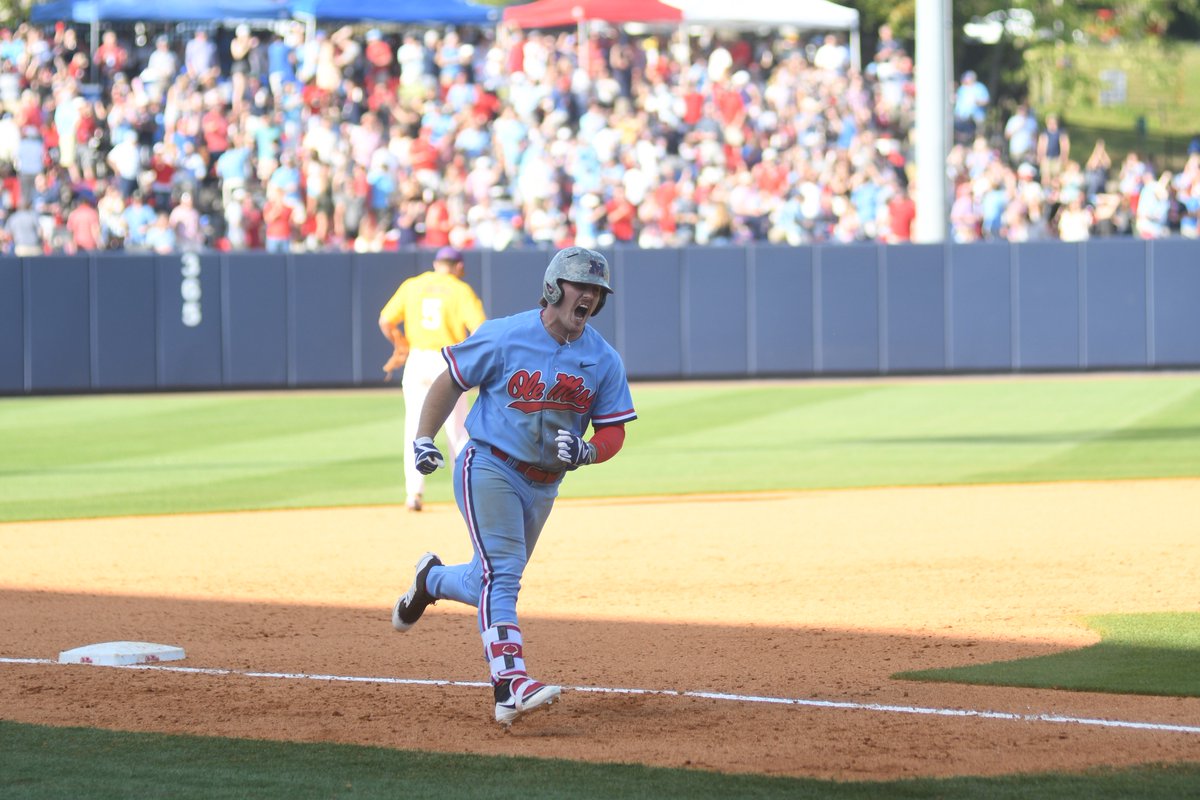 OXFORD, Miss. – Ole Miss erased a 7-4 deficit with a five-run seventh inning Saturday, and the Rebels hung on for a 9-8 win over LSU at Swayze Field.
Ole Miss improved to 34-11 overall and 12-9 in the SEC, while LSU dropped to 26-19 overall and 10-11 in conference play.
The Tigers return to action at 7 p.m. CT Friday when they play host to Arkansas in Game 1 of a three-games SEC series at Alex Box Stadium, Skip Bertman Field.
Friday's game may be on SEC Network + – accessible at WatchESPN.com and the Watch ESPN app, and it may be heard on affiliates of the LSU Sports Radio Network.
The Rebels exploded for five runs in the seventh against reliever Caleb Gilbert to take a 9-7 lead. Rightfielder Tim Rowe lined an RBI double, Kessinger provided a run-scoring single, and the inning was punctuated by a three-run homer from leftfielder Thomas Dillard, his 10th dinger of the season.
LSU scored a run in the ninth on a one-out bases-loaded walk to catcher Hunter Feduccia to narrow the gap to 9-8, but Ole Miss closer Parker Caracci struck out designated hitter Nick Coomes and induced a fly ball to right field by third baseman Jake Slaughter to end the game.
Caracci earned his eighth save of the season, working one inning with two walks and two strikeouts.
Gilbert (3-4), who entered the game in the third inning in relief of starter Todd Peterson, was charged with the loss as he allowed five runs – four earned – in 4.1 innings with one walk and one strikeout. Gilbert worked four straight scoreless innings before the Rebels regained the lead in the seventh.
Ole Miss reliever Will Ethridge (2-1) earned the win as he was charged with one run on four hits in 5.2 innings with two walks and three strikeouts.
LSU took a 1-0 lead in the top of the second inning against Ole Miss starter James McArthur when third baseman Jake Slaughter lined a two-out RBI single into left-centerfield.
The Rebels responded to grab a 4-1 advantage in the bottom of the second inning when designated hitter Chase Cockrell launched a three-run homer and shortstop Grae Kessinger smacked a run-scoring single.
LSU erupted for six runs on five hits in the third to seize a 7-4 lead. First baseman Austin Bain ripped an RBI double and centerfielder Zach Watson belted a two-run double to highlight the uprising, which also featured a run-scoring single by Feduccia.
< PREV

Keagan Gillies tosses gem as Tulane wins at No. 20 UConn, 7-1

NEXT >

LSU Trio: Gage to Falcons, Etling to Patriots, Clapp to Saints on final day of NFL Draft
Bill Franques