Andrea Kaelin named Head Women's Golf Coach at Tulane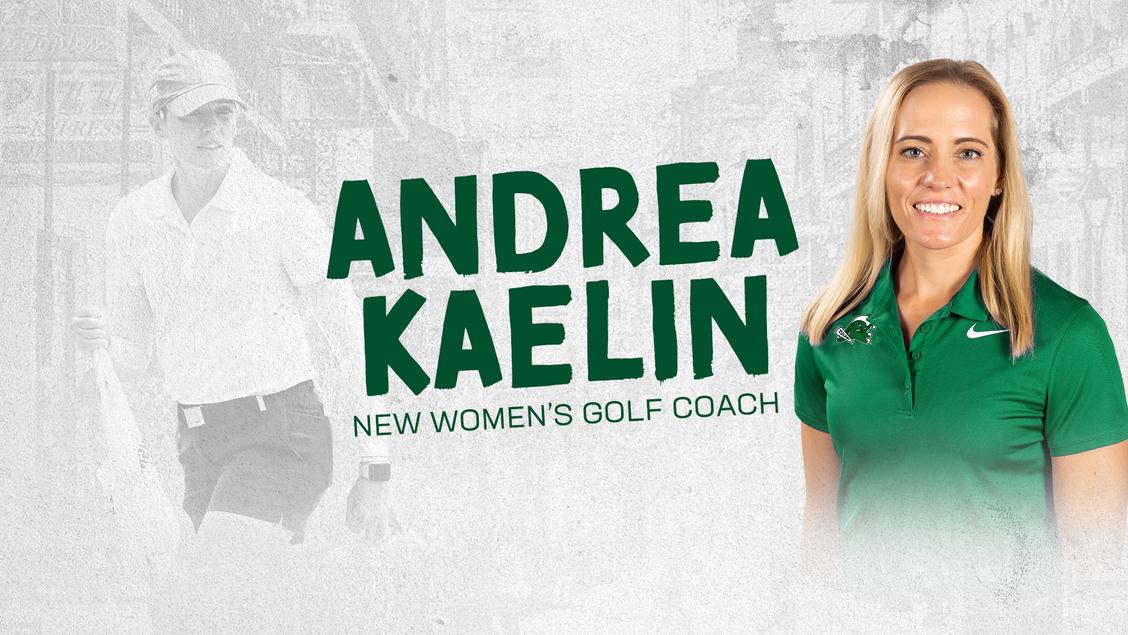 NEW ORLEANS, LA – Tulane Director of Athletics Troy Dannen announced Friday that Andrea Kaelin has been hired as the head coach for the Green Wave's women's golf program.
Kaelin comes to NOLA after six years with TCU's women's program, the last four coming as its associate head coach after two seasons as its assistant.
In 2022-23, the Horned Frogs enjoyed a season that saw four top-5 finishes, a third-place finish at the Big 12 Match Play and Big 12 Championship, an NCAA Regional qualifier and the first back-to-back NCAA Championship appearances since 2007-08.
The top-five team stroke averages in program history came during Kaelin's tenure at TCU, including a new record of 290.3 in 2021-22.
That 2021-22 campaign, which culminated with TCU's first NCAA Championship appearance since 2010, saw the Horned Frogs set a total of 26 team and individual program records.
"We are excited to welcome Andrea to the Tulane Athletics Family," said Dannen. "Her successful track record and commitment to developing today's student-athlete will serve her well in Uptown. Our team is eager to get started this fall and I know that Andrea is as well."
An active member of the Women's Golf Coaches Association, Kaelin came to the Horned Frogs after serving the previous four years as head coach at Redlands Community College in El Reno, Okla.
Kaelin led Redlands to three National Junior College Athletic Association (NJCAA) National Championship appearances. Each trip resulted in a sixth-place finish. Her squads totaled 11 regular season tournament wins, four consecutive regional championships and a high transfer rate of players to NCAA Division I. She also recruited the No. 1-ranked junior in South Africa.
Kaelin is a 2012 graduate of Florida State with a degree in professional golf management. She was a member of the women's golf program and part of three consecutive Seminoles teams to reach the NCAA Regionals and earn a top-25 ranking.
"I'm thrilled to join the Tulane athletics staff," said Kaelin. "The investment into the success of its teams has been impressive over the years and there's no better time to continue the growth of Women's Golf. Thank you Troy, Deputy AD Dr. Charvi Greer and Senior Associate AD Kyle Verber for this opportunity and your belief in me to elevate this program. I won't let you down. Roll Wave!"
Before arriving in Tallahassee, Kaelin played two seasons at Redlands. She graduated cum laude and as a member of the Phi Theta Kappa Honor Society. She helped lead the program to the NJCAA National Championship in both 2008 and 2009, finishing in third place in the individual standings at the 2009 NJCAA Championship to earn first-team All-American status. She was also a 2008 USGA Amateur Championship Qualifier.
Before returning to Redlands as head coach, Kaelin worked at several golf clubs as a golf professional and in management capacities.
What They're Saying About Andrea Kaelin
"I had the pleasure to get to know Andrea during a search process and was very impressed with her. She has had great success both as a head coach and an assistant in building programs and was very impressed with her passion for the game of women's golf and how much she cares for her athletes."
Gene Taylor – Director of Athletics, Kansas State University
"I am so proud of Andrea and her growth as a coach these past six years. When you work with the best it is always difficult to lose them. It was only a matter of time before a big-time program snatched her up. She has an amazing future ahead of her and our sport is in great hands with leaders such as herself at the helm. We will certainly miss her at TCU."
Angie Ravaioli-Larkin – Head Coach, Texas Christian University
"Andrea is one of the best young coaches in the country. She has a lot of experience, is a great recruiter, and builds relationships with her players on and off the course. She has helped TCU have success during her time in Fort Worth, which includes team wins, individual wins, and National Championship appearances. She is a tremendous hire at Tulane and I look forward to watching her succeed."
Amy Bond – Head Coach, Florida State University
"I have been fortunate to know Andrea Kaelin for the past 15 years…both as a former player and coach. As a player, you couldn't help but notice that she possessed all of the qualities to be a star in this profession! She is a fierce competitor, compassionate for her players and is a great evaluator of talent. Tulane has hired a great one and I am excited to watch her impact on their program and the city of New Orleans!"
Gerrod Chadwell – Head Coach, University of Houston
"Tulane hit a home run in hiring Andrea. It was just a matter of time before a great school picked her up. Her experience and knowledge of the game are immense and she will represent the Green Wave in a superior fashion."
Jill Trujillo – Head Coach, University of New Mexico
< PREV

Dylan Crews, Angel Reese named 2023 Corbett Award winners

NEXT >

Louisiana Tech opens fall football camp
Jason Corriher