Analysis: LSU, Northwestern State to get tough test at Oregon State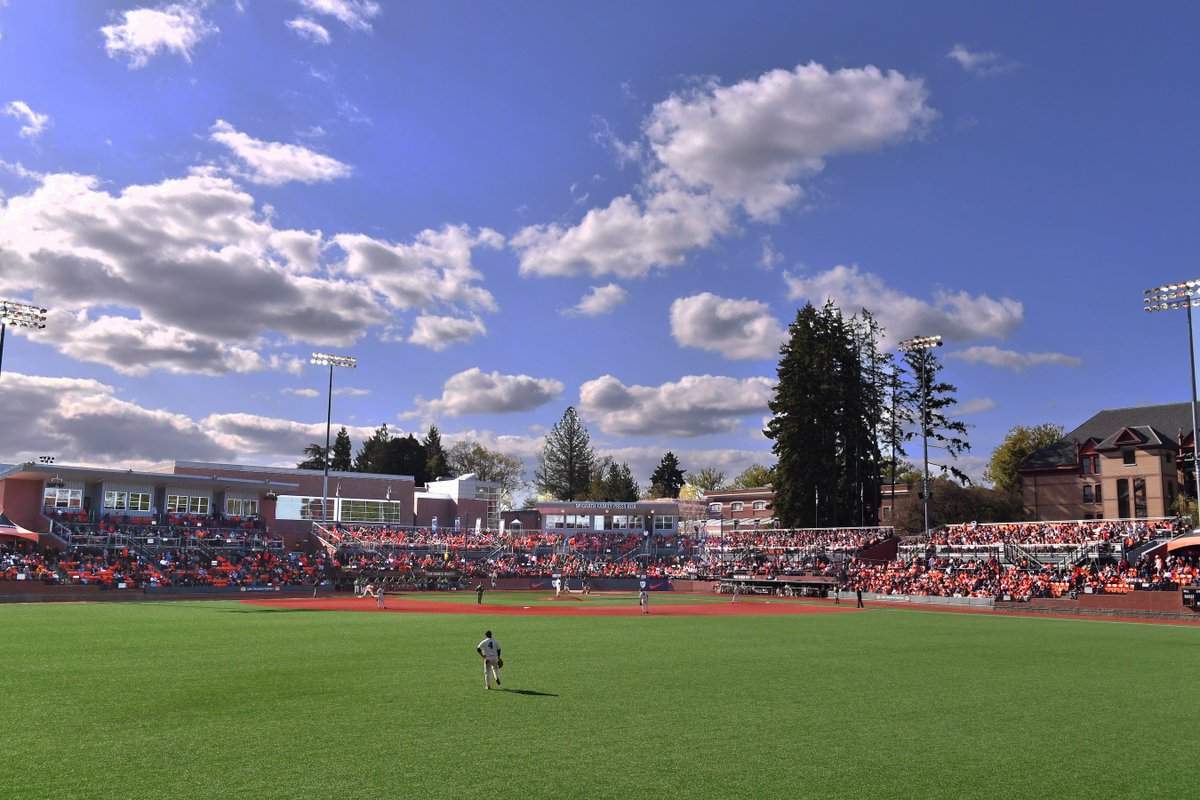 LSU knew it was getting on a plane to head to its NCAA baseball tournament destination. Northwestern State had a couple of bus options among its potential stops.
So why are both making the furthest trip possible in the regional round, to Corvallis, Oregon, to play in a four-team event hosted by No. 3 national seed Oregon State?
Travel likely played a part. And by likely, expect the Tigers and Demons to share a plane out west.
It happens – especially headed to Corvallis. Last year, Yale and Holy Cross shared a plane out of Hartford, Connecticut, to head to Oregon State. In fact, they stopped in Lincoln, Nebraska, and picked up Nebraska on the way out.
Once the Tigers and Demons get to Corvallis and get on the field, the spotlight will fall on the top two seeds, who met three times at the College World Series a year ago, with the Tigers battling out of the loser's bracket to stun the No. 1-ranked Beavers and reach the championship series.
Oregon State is led offensively by juniors Nick Madrigal, back after missing 26 games with a hand injury, and Trevor Larnach. Madrigal, an All-American second baseman, is hitting a team-best .395, while Larnach leads the Beavers with 17 home runs. Both are Golden Spikes  Award semifinalists.
When LSU and Oregon State faced off in Omaha nearly 12 months ago, the Beavers were without controversial pitcher Luke Heimlich, who left the team last postseason when news surfaced that Heimlich had pleaded guilty of sexually molesting his 6-year-old niece in 2011.
Heimlich, who has said little in the last year but told the New York Times this spring that "nothing ever happened," is back with the Beavers this season and is 14-1 with a 2.49 ERA and 139 strikeouts in 104 2/3 innings.
How OSU sets up its pitching for the week could be key. The Beavers have struggled in the final game of several Pac-12 series this year.
But before you look ahead to a possible Tigers-Beavers rematch, LSU must get past San Diego State (39-19), which likely will send out Mountain West Co-Pitcher of the Year Garrett Hill. Maybe the most telling statistic about the Aztecs this season is that they are 15-6 in one-run games, including their first two games of the conference tournament.
If LSU can eliminate Oregon State for a second straight year, it could have a great chance of playing at home the following weekend against another Pac-12 team.
The Corvallis regional is matched with the Minneapolis regional, hosted by No. 14 seed Minnesota. If one of the visiting teams – especially No. 2 seed UCLA  – could go into Minnesota and win, and LSU could prevail in Corvallis, then the road to Omaha might still have a stop at Alex Box Stadium.
One thing that was apparent in Sunday night's host announcement, and again in Monday's bracket reveal, was that success within the conference meant a lot to the selection committee.
Even though the Southeastern Conference tied a record with 10 teams in the field, the SEC's 11th-best team, Kentucky, was left out because of a 13-17 conference record and one-game exit from the conference tournament.
"There are some metrics that we look at in the room, and one of them is sub-.500 against conference competition," said committee chair Ray Tanner, athletic director and former baseball coach at South Carolina. Tanner further noted that only one team below .500 in league play was in the field, presumably Texas A&M.
"We talked about a lot of different things," Tanner said. "We were rewarding things who won their conference, won their tournament or did both."
That played a part in Sun Belt regular-season and tournament champ Coastal Carolina getting the No. 15 seed – and one of the final two host sites – over teams like Auburn, Duke and Connecticut.
Auburn (at NC State) and UConn (at Coastal) are the No. 2 seeds in the brackets with the No. 15 and 16 seeds. While the committee doesn't seed the field from top to bottom like their counterparts in men's basketball, it's apparent they were trying to maintain balance in key areas.
You could even point down the line, like in Corvallis. LSU was likely one of the lowest-ranked No. 2 seeds in the bracket and will now face the challenge of the third-ranked team in the entire field.
| | | | | | | | | | | |
| --- | --- | --- | --- | --- | --- | --- | --- | --- | --- | --- |
| Site | Seed | | | | | | | | | |
| Gainesville | 1 | Florida (42-17) | vs | 4 | Columbia (20-28) | 3 | FAU (40-17) | vs | 2 | Jacksonville (39-19) |
| Raleigh | 16 | NC State (40-16) | vs | 4 | Army (36-22) | 3 | Northeastern (36-19) | vs | 2 | Auburn (39-21) |
| Athens | 8 | Georgia (37-19) | vs | 4 | Campbell (35-24) | 3 | Troy (41-19) | vs | 2 | Duke (40-15) |
| Lubbock | 9 | Texas Tech (39-17) | vs | 4 | New Mexico St. (40-20) | 3 | Kent State (39-16) | vs | 2 | Louisville (43-17) |
| Fayetteville | 5 | Arkansas (39-18) | vs | 4 | Oral Roberts (38-18) | 3 | Dallas Baptist (40-19) | vs | 2 | So. Miss (43-16) |
| Greenville | 12 | ECU (43-16) | vs | 4 | UNC Wilmington (37-21) | 3 | Ohio State (36-22) | vs | 2 | So.Carolina (33-24) |
| Oxford | 4 | Ole Miss (46-15) | vs | 4 | Saint Louis (38-18) | 3 | Missouri St. (39-15) | vs | 2 | Tenn. Tech (48-9) |
| Austin | 13 | Texas (37-20) | vs | 4 | Texas Southern (27-26) | 3 | Texas A&M (39-20) | vs | 2 | Indiana (38-17) |
| Chapel Hill | 6 | UNC (38-18) | vs | 4 | NC A&T (32-23) | 3 | Houston (36-23) | vs | 2 | Purdue (37-19) |
| DeLand | 11 | Stetson (45-11) | vs | 4 | Hartford (26-29) | 3 | Oklahoma St. (29-24) | vs | 2 | South Florida (35-20) |
| Corvallis | 3 | Oregon St. (44-10-1) | vs | 4 | NW State (37-22) | 3 | San Diego State (39-19) | vs | 2 | LSU (37-25) |
| Minneapolis | 14 | Minnesota (41-13) | vs | 4 | Canisius (35-20) | 3 | Gonzaga (32-22) | vs | 2 | UCLA (36-19) |
| Tallahassee | 7 | Florida St. (43-17) | vs | 4 | Samford (36-24) | 3 | Oklahoma (36-23) | vs | 2 | Mississippi St. (31-25) |
| Clemson | 10 | Clemson (45-14) | vs | 4 | Morehead St. (37-24) | 3 | St. John's (39-15) | vs | 2 | Vanderbilt (31-25) |
| Stanford | 2 | Stanford (44-10) | vs | 4 | Wright St. (39-15) | 3 | CSU-Fullerton (32-23) | vs | 2 | Baylor (36-19) |
| Conway | 15 | Coastal Carolina (42-17) | vs | 4 | LIU Brooklyn (31-24) | 3 | Washington (30-23) | vs | 2 | UConn (35-20) |
< PREV

LSU and Northwestern State sent West to Corvallis for NCAA Baseball Regional

NEXT >

Willie Brooks to speak Wednesday at Life Resources Bottom Line Luncheon
Lenny Vangilder
Sales/Content/Production
Lenny was involved in college athletics starting in the early 1980s, when he began working Tulane University sporting events while still attending Archbishop Rummel High School. He continued that relationship as a student at Loyola University, where he graduated in 1987. For the next 11 years, Vangilder worked in the sports information offices at Southwestern Louisiana (now UL-Lafayette) and Tulane;…