Afternoon showdowns await at the 2017 CBS Sports Classic in New Orleans
Ohio State-North Carolina tips at 12:30 p.m. CT, Kentucky-UCLA at 3 p.m. CT on Dec. 23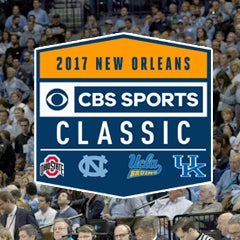 NEW ORLEANS – Game times are set for the fourth annual CBS Sports Classic, scheduled for Dec. 23 at Smoothie King Center in New Orleans. Ohio State and North Carolina will tip off at 12:30 p.m. CT, followed by Kentucky and UCLA at 3 p.m. Both games will be broadcast by CBS Sports.
Three of the four programs have enjoyed success in The Big Easy – both Kentucky and Ohio State advanced to the 2012 Final Four, with the Wildcats winning the national championship that year. North Carolina has also won two national titles in New Orleans (1982, 1993). New Orleans has also been kind to the Buckeyes' football team; Ohio State knocked off Alabama in the semifinals of the College Football Playoff en route to the 2015 national championship.
Including North Carolina's national championship last season, collectively the four programs have won 26 NCAA titles. The quartet boasts 178 NCAA Tournament appearances and are among college basketball's all-time winningest programs, combining for more than 7,900 victories.
Kentucky, North Carolina and UCLA appear in CBS Sports' early top-20 rankings and, along with Ohio State, welcome top-25 recruiting classes to their respective campuses for the 2017-18 season.
< PREV

Dunham vs. St Michael, Riverdale at South Plaquemines football games available on live audio webcast

NEXT >

Bill Belichick, Sean Payton conference calls ahead of Patriots-Saints matchup
Press Release