A look inside Tulane men's basketball's 2018-19 schedule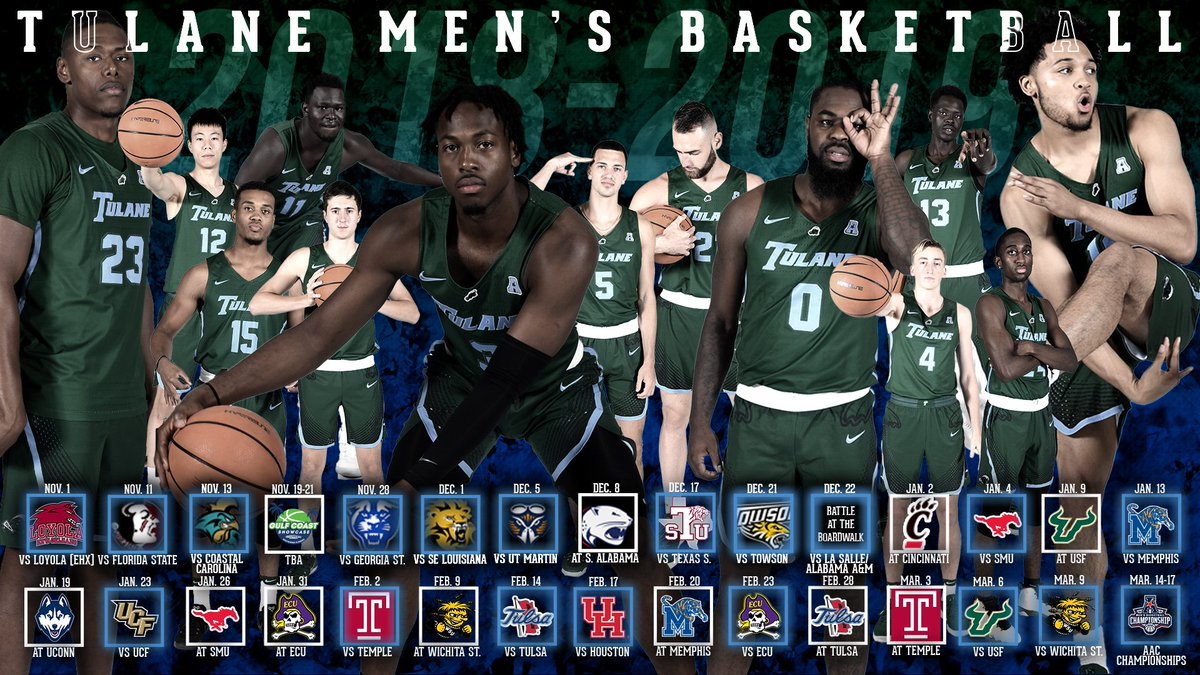 NEW ORLEANS – With official practice ahead of the 2018-19 season set to begin on Wednesday, September 26, the Tulane men's basketball team's full schedule presents unique challenges with numerous opportunities to make a mark on the national stage.
Under third-year head coach Mike Dunleavy, Sr., the Green Wave will host 15 home games inside Avron B. Fogelman Arena in the Devlin Fieldhouse and will head out to compete in five neutral-site contests. The Wave will play just one true road tilt in the non-conference slate at South Alabama on Dec. 8.
Tulane will play a minimum of 11 regular-season games against nine teams that earned postseason bids in 2018, including seven opponents that played in the NCAA Tournament (Cincinnati, Florida State, Georgia State, Houston, South Dakota State, Texas Southern and Wichita State). Temple and Southeastern Louisiana made NIT appearances.
In non-league play, the Green Wave will meet four different opponents for the first time in history, including Coastal Carolina (Nov. 13), UT-Martin (Dec. 5), Texas Southern (Dec. 17) and Towson (Dec. 21).
When Tulane tips the season at home against Florida State, a team that was one victory shy of reaching the Final Four, it will be the first time the Seminoles play a road game against the Green Wave since their Dec. 5, 1995 trip in the Superdome ended on Jerald Honeycutt buzzer beater as time expired.
Getting a glimpse of the action from afar will also be easy for viewers, as all 18 American Athletic Conference games will be televised nationally with 14 contests airing on ESPN's family of networks and four on CBS Sports Network.
The 2019 American Athletic Conference Championship will take place March 14-17 at FedEx Forum in Memphis, which was the site of the league's first tournament in 2014.
The Green Wave returns three of its top five scorers from one year ago, including junior Samir Sehic with 10.5 points per game, Ray Ona Embo (10.1) and Jordan Cornish (9.9). In all, the Wave returns eight letterwinners and welcomes four newcomers.
Including nine North American players, Tulane's 2018-19 roster comprises student-athletes born on four continents with Ona Embo, a French guard (Europe), South Sudanese post players Bul Ajang and Buay Koka (Africa) and freshman Kevin Zhang (Asia).
TICKETS
Tickets for the 2018-19 season can be purchased by calling 504-861-WAVE (9283), logging onto TulaneTix.com or visiting the ticket office at the James W. Wilson Jr. Center. Season tickets start at just $125, meaning fans see the action for less than $8.50 per game.
FOLLOW ON SOCIAL MEDIA
For behind-the-scenes coverage, follow Tulane men's basketball (@GreenWaveMBB) on Twitter, Facebook and Instagram.
GET THE MOBILE APP
Download the official mobile app of Tulane Athletics. Now, you can stay in touch with the Green Wave anytime and anywhere on your Android or iOS mobile device.
< PREV

Video: Ed Daniels at GNOSF QB Club 2018

NEXT >

Patrick Robinson placed on injured reserve with broken ankle
Adam Miller